Our guests enjoyed a wonderful Field Trip and private tour to the family-owned and award-winning Olive Grove and Finca – Hotel Es Treurer in Algaida.
On a beautiful sunny day, father and son, Joan and Miquel, presented with a lot of passion their Olive Grove and Olive Oil Production to our guests. Everyone could feel the heart and soul they have put over many years into producing one of the best Olive Oils in whole Spain.
One highlight of the tour was, as they were in the middle of harvest season, to watch the actual harvesting of the olives. After the tour and the degustation of their award-winning olive oil, our guests had time to enjoy some delicious local products and nice conversations on their terrace.
At hc/ Connect & Grow we love to create unique experiences and activities for our members and guests we are happy that each time new people join the community.
If you would like to become a member of hc/ Connect & Grow, apply now.
hc/ Connect & Grow Application Form
Address details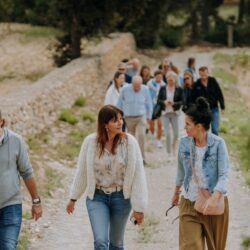 hc/ Living & Business Lounge
C/ Jardí Botànic 2