Experience Casa de Campo Llevant
On a unique plot of land between Campos and Es Trenc is the newly completed luxury new-build finca "Son Llado Llevant". With 760 m² of usable space and a plot of 32,000 m², the property offers all the amenities and features you would expect in this price range. The combination of Son Llado's advantages makes this very private ensemble unique. The fact that a "Perfect Hideaway" is more than the sum of outstanding features can only be "experienced" with all the senses. In order to share these impressions, we invite you to an Open House at the Son Llado estate. The property ensemble on 171,000 m² will house five luxury country villas. Each of them offers absolute privacy thanks to the spacious plots. The whole estate is surrounded by a Mallorcan natural stone wall, so that the properties, which can be reached via a private road, cannot be seen.
Open House on 5th (from 4-6pm) and 6th May (from 12-14pm)
Reserve your place
Location
Situated between Campos and Es Trenc, the infrastructure and accessibility is unusually good for country houses. The location makes it possible to enjoy the advantages of the island without any effort.
Architecture and design
The architecture and construction quality are of exquisite quality. The German management, resident in Mallorca for 20 years, relies on German building standards, sustainable concepts and many high-quality details. The furnishings offer efficiency with the highest level of comfort. Underfloor heating as well as cooling and heat pump and a 16 KW photovoltaic system with storage lead the energetic concept to a class A energy certificate. The driveway to the large, ground-level main house leads you through the estate's own vineyard, which allows for in-house bottling on behalf of the owners via professional care. Your own wine. The Llevant country house has large terrace areas and a pool measuring 20×5 metres. The pool house, as well as an outdoor kitchen, sauna and gym are a matter of course here, but no less luxurious and lovingly integrated into the concept of the country house. For a purchase price of 5.2 million euros, the future owners receive the corresponding level of quality and, in addition, a plot that also allows for the realisation of expansive wishes.
Address details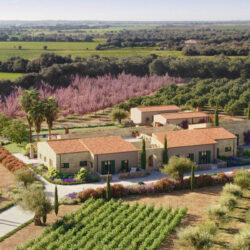 Son Llado - Llevant
07013 Campos, Casa Llevant