We met Founder of Sadhana Works, Mariana Salinas, at her beautiful home in Algaida where she was joined by her three children, Inés, Rodrigo and Martina, husband Joan Valent and mother-in-law Margarita Capellá. Throughout the afternoon, Mariana welcomed us to join her for Kundalini Yoga and Craniosacral therapy, both of which she offers at her Sadhana Works centre in Bendinat.
The Sadhana Works message is to promote conscious living and a healthy lifestyle on Mallorca through positive thinking, good habits and nutritious food. Rosario Calvo Tagle is the Sadhana Works Naturopath and Chef of Natural Cuisine, who joined the family in picking fresh vegetables from the garden and making colourful dishes packed with nutrients. These included, raw vegan balls, fresh vegetable juices and lettuce parcels filled with lentils and brown rice. She also made a fantastic spicy hummus dip which everyone fell in love with!
Later in the afternoon, famous Mallorcan composer Joan Valent played the piano which instilled a further sense of peace and tranquility.
If you would like to find out more about healthy living on Mallorca, follow Sadhana Works on Instagram. Or visit the centre in Palma de Mallorca and enjoy a full schedule of classes in coaching, nutrition and Kundalini Yoga. You can also book appointments in family constellations, Craneo-sacral therapy, Osteopathy and Flower Essence therapy.
Address details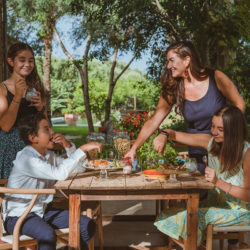 Sadhana Works
C/ Sant Feliu, 17 local 8&9 07012 Palma de Mallorca