Formenteraguamarina has launched an online lifestyle shop, with items carefully chosen for quality and uniqueness. Under the direction of Dolores Luque, FormenteraguamarinaShop offers a selection of clothing, jewellery and accessories for women and children designed to partner an idyllic holiday.
Formenteraguamarina radiates the sense of being embraced by the sea and lost in the waves, a digital habitat wherein you discover products joined by one common thread: the pleasure of getting lost, of exploring new places aimlessly.
For the summer 2016 collection, Dolores Luque toured the Balearic Islands, the islands of her childhood and now, life. Her careful selection of products take you closer to Mallorca, Menorca, Ibiza and Formentera.
Dolores shot a campaign in the Serra de Tramuntana and Cala Deià (Mallorca) to prove that if paradise actually does exist, it would look a lot like that part of the Mediterranean.

 This won't be her last trip; in seasons to come, Formenteraguamarina will set sail in search of new experiences in Cyprus, St Tropez and Fuerteventura.
Who is Dolores Luque?
Dolores Luque knows that heaven exists because she was born in it. She knows it like the palm of her hand; by heart all its roads and corners. In the small map of that magical place which is Formentera, she spent half of her life. All her childhood and teen memories are tinted with intense and bright aqua blue.
It all started with a blog, back in 2008, when there was no Instagram or Pinterest and we were all new to social media. Dolores missed her little island, so she decided to put it together with her other great passion: fashion. The need to develop her creative part allowed her to focus on her digital diary, which for many years she combined with her other job in a bank in Palma, the city in which she now lives years after leaving her paradise to go to college.
With her blog dedicated to fashion and lifestyle, Dolores became a pioneer in Spain. She managed to become a reference and have the support and interest of numerous prestigious publications in the national scene.
The characteristic collages that used to be posted on the blog also radiated the positive energy that aquamarine emits, sharing the same blue as the sea in Formentera. As she explained on her first blog post: "It reinforces the magnetic field and brings good luck. It also brings happiness and welfare to the wearer. It gives us peace and tranquillity."
Someone who has gotten to know this paradise can't settle for anything less. All the passion, energy and dedication, Dolores wants to share with those who follow her journey, starting with the Formenteraguamarina Shop. Everything that you find here is a great start for your trips.
Address details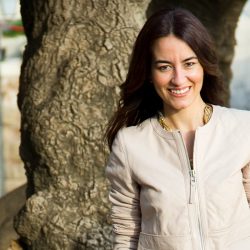 Dolores Luque