Asmooth journey – that's their promise. Edificam will take everything in hand, from locating the ideal terrain right up until the handover of the keys. In their view, the creation of a state-of-the-art property should be a pleasure from beginning to end.
"We build to create life," they say. Until a project uplifts the viewer, stirring genuine emotion in them, they won't consider it finished. They seek perfection and yet are sensitive to traditional beauty. They can raise an ultra-modern gymnasium in the city, and also create a charming rural residence perfectly integrated with its natural environment. What they aren't interested in, is building the ordinary and in their projects quality is the absolute priority.
Pioneers in cutting edge construction for over 10 years, they count on a talented multidisciplinary team of over 100 staff. Flawless communication is their secret; both between the different departments as well as with the client. Everybody stays informed every step of the way. Different languages pose no barrier either, as their technical and administrative team are fluent in several, and they are used to dealing with a demanding, international clientele.
In May, Edificam inaugurates its new headquarters in the Son Bugadelles industrial estate, a pioneering project in the Balearics as the islands' first 'zero energy building' offices. With A+ energy efficiency, solar energy with storage, geothermal energy, air renewal and humidifying system, it helps both the environment and the quality of life of its workers.
Director, Francisco Pfitsch Fuster, regards keeping ahead of the game a priority, which is why Edificam employees are continually in training.
Pfitsch Fuster's enthusiasm for his work has not diminished through over a decade of the firm's life. "If you work twelve hours a day without unconditional love towards your work the result will not be satisfying.
Their passion is indisputable. Professionalism, discretion, and cohesion within the team, are the other values that have allowed this firm to thrive. At Edificam, each team member plays an essential part in the realization of every single project. For the exigent client chasing an incredible dream on Mallorca, this company consistently steps up to the challenge.
Address details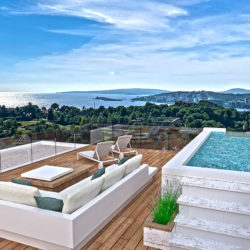 Edificam
Arquitecto Francisco Casas 10 Local 1, Bendinat