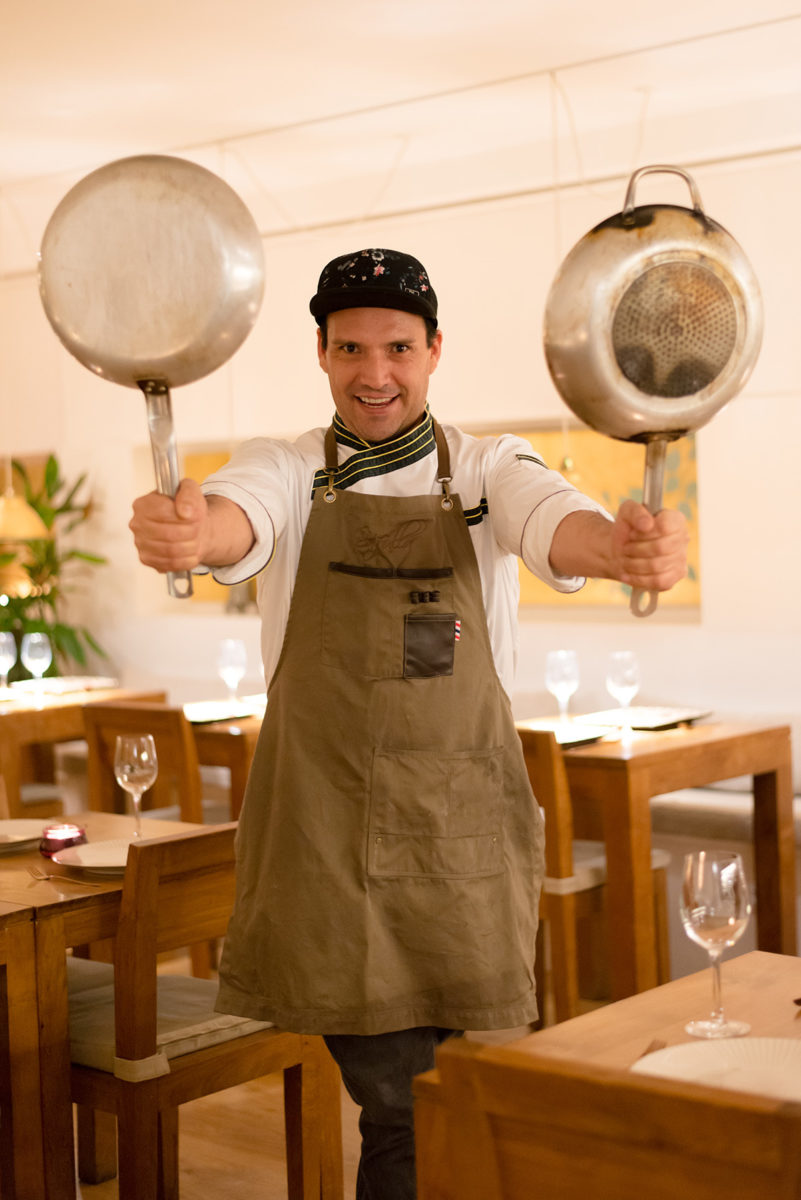 How great is it to have that perfect local restaurant—one that will impress out of town friends and also be the perfect place for a romantic dinner? The restaurant that has just the mood welcoming, stylish, and atmospheric, and of course, consistently delicious and creative food? Sa Fulla, which opened in mid-2017, ticks all the boxes. After a successful run in Barcelona, the team behind this new wave-Mediterranean restaurant, which includes owner and manager, Claudio Gutmann, chef Hector Marceló, and Martha Arais, up and moved to Mallorca, setting up their new restaurant in vibrant Santa Catalina.
Born in Chile, chef Hector Marceló, worked for numerous top chefs in Latin America and across Spain, before starting Sa Fulla (which means oyster leaf: edible plant that highly resembles oysters), with Gutmann and Arais. He brings an international vision to the rich heritage of Spanish and Mediterranean cuisine, creating unique pairings of flavours that explode in your mouth, such as smoked Galicia oysters with a 'pearl of tequila', vegan tartar with beetroot and mango Campari sphere, avocado foam and shiso leaf or the much praised Atun Rapa Nui – a tribute to the Chilean island in the southeastern Pacific Ocean – with a yucca chip symbolising a Moai. Connecting to his Chilean roots, Marceló specialises in seafood, taking grilled octopus and ceviche to new levels.
Additionally, the creative chef prepares special menus for emblematic dates, like local holidays, Easter, Christmas, and Boxing Day. One that will definitely be repeated in 2018 is the unforgettable New Year's Eve menu.
Beyond the food, what brings you back time and again is the restaurant itself. The interiors, by Paca Iglesias are elegant and dynamic, with gold-hued walls and cool contemporary art, making Sa Fulla inviting for all occasions. Here, you can go out for a special meal with a loved one, pop in to share a few dishes with a friend, or come with a group – and incredibly the restaurant feels right in each setting. In both food and atmosphere, the recipe here is just right.
Address details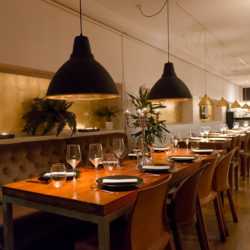 Sa Fulla
Carrer de Cotoner, 47, Palma