Anyone who has spent time around horses knows that the smell of horse tack is a special thing. It was this distinctive leathery quality that led Sarah Rennison to spend quiet moments at a friend's saddlemaking workshop in Santa Catalina. Breathing in the scent of the old saddles and bridles took her back to her early years in Wales; it was the smell of her childhood.
Rennison's journey from the rural place of her birth to Mallorca was an eventful one. Ever adventurous, after studying photography in London and working both there and New York in the fashion, advertising and music industries, she took up the offer of partaking in a sailing voyage across the Atlantic. The last stop was Mallorca – and the rest is history
Take a closer look at the bags in the Reclaim Mallorca collection, and you'll spot the distinctive RE initials charmingly woven into the fabric. These two letters signify the founder's passion for redefining modern luxury with the approach:
Recover, Repair, Reuse, Restore, Recycle, Reclaim.
The brand is local, sustainable and perfectly in tune with the current zeitgeist for ethical elegance. Employing talented local craftsmen and championing the beauty of the island with bag names like 'Sóller', 'Deià' and 'Orient', the company has a deeply nurturing philosophy.
The seeds of a beginning, though, came under pressured circumstances to rectify Rennison's personal plight and that of her saddlemaking friend Pep.
After working in marketing and communications, followed by the "fast-paced and exciting, but at times extremely stressful" yacht concierge field, Rennison craved simplicity. In typically intrepid style, she left Mallorca to volunteer as a director for an eco-tourism project in Vietnam. Four months later, however, illness forced a return for lengthy medical treatment.
"I had to find a local project, one that fitted with my vision of environmental sustainability", she says.
Living in Santa Catalina district of Palma at the time – 2009 – but with Wales forever in her heart and soul, whenever homesickness struck, Rennison would sit in the familiar surroundings of the workshop. It was during one of these visits that she found her friend – the Mallorcan saddlemaker Pep Roig – in a very low mood. With Spain in the midst of an economic recession, business was suffering, and Pep was wrestling over a decision to sell his beloved horse, Roig, that he had raised from a foal.
"I couldn't let this happen; I knew I had to find a solution," says Rennison.
That night, picturing all the used horse tack left lying around the workshop, she had an idea.
"If I could combine my love of antique fabrics with his collection of used tack to create very unique and individual bags, and build a brand around them, that would fulfil my own personal mission; and maybe mean Pep could keep Roig."
Reclaim Mallorca was born – and Pep's horse stayed with him. Working out of a studio and production facility in Inca, the six-strong, mixed-nationality Reclaim team harness the beauty of upcycled fabrics and production-surplus Italian cashmere with restored leather – sourced from the bridles and saddles of racehorses and polo ponies – to make the entirely one-off bags.
One thing you notice when you salivate over the exquisitely chic creations in the label's online store is that most of them are sold. Several international stockists have taken them on, and the fashion community at large adores them. So who's buying?
"Our typical client is well travelled, discreet, somewhat classical yet daring, with a sense of fun and adventure", says Rennison.
What started as a yearning to recapture a memory has given life to a whole new chapter.
Photo credits: Santiago Stankovic 
Address details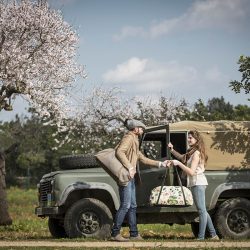 Reclaim Bags Mallorca