A bright shining star in the world of lighting, Lucent Lighting radiates an international reputation of excellence. Specialising in discreet lighting solutions, the growing global company works closely with lighting designers and brands to create unique and striking spaces through the art of light.
"Lighting has the ability to completely transform a room or space. It's therefore incredibly important to get it right," Michael explains.
Michael made his first foray into the industry at Concord Lighting in 1972. "It was the hotel boom period in London, which was a really exciting time for architecture and lighting in the hotel industry. It quickly made me realise the importance of lighting being used correctly across all types of projects, whether it be residential, hotels, retail or commercial."
Lights ON London!!
Recent London-based lighting renovations include irradiating Dior in New Bond Street, while past international projects have seen Polo Ralph Lauren's flagship store in Manhattan, several Mulberry outlets and Harrods' Wellness Spa all sensationally revitalised.
"I get a kick out of travelling and seeing our fittings around the world," says Michael. I continue to be amazed at the scope and variety of work we carry out globally, from Carolina Herrera and Tiffany & co. on Rodeo Drive in LA, to The Mandarin Oriental in Barcelona and Atlantis, The Palm in Dubai."
The much-in-demand family-run business has also illuminated around 100 shopping centres throughout Spain. "That was an exciting milestone for me, which included Gran Via in Barcelona and Plenilunio in Madrid."
Switching it up for shimmering success
How has lighting evolved since Michael founded Lucent Lighting? "Lighting has become much smaller and more powerful. When you think about lighting in the 70s, the size of the lamps and fixtures and the energy that was consumed compared to the efficiency of modern day LEDs, it's outstanding.
Lucent Lighting is phenomenally successful.
Michael's winning formula of de-light-ful designs and innovative products, along with an understanding of customer needs, gives the highly-esteemed company an edge over its competitors. "We produce a quality product at the right price and appearance and we listen to our clients and their particular requirements. Our products, in the main, have developed from working with lighting designers and we develop new fittings which work perfectly in conjunction with the lighting designers' specification."
Brightening up Menorca
Lucent Lighting recently completed the architectural lighting for the boss's villa in the Med. "We fell in love with the Balearics in 1972 and bought our first property straight away," says Michael. "Menorca is special to us because it's a quiet and unspoilt family island. The architect, Christian Sintes from LUV Architecture & Design in Barcelona, who developed our new Menorca house, was actually born in Menorca."
Michael's stunningly-lit home serves as the perfect exhibition space for his company's work, showcasing the ultimate art of natural and artificial light through their architectural lighting expertise combined with LUV's inspirational 3D designs.
"The house is the perfect space for entertaining. We like the Catalan style; among our favourite pieces of furniture are our Mariposa (Butterfly) chairs, originally designed in Buenos Aires in 1938, but now manufactured in Barcelona."
Finally, how can readers make the most of the Mediterranean's fantastic natural light? "Have big windows to let lots of natural light in to show off the beautiful surrounding views of the island. Make sure you have outdoor entertaining areas to make the most of the fantastic weather as well!"
Address details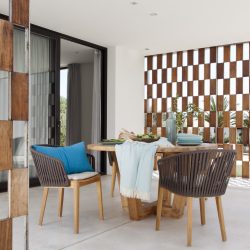 Lucent Lighting