Kare Mallorca hosted an October themed evening last Friday as a nod to the brand's city of origin. More than 150 guests tucked into traditional German beer and a choice of Weisswurst and Bratwurst sausages at the interior design label's Calvia store.
The staff played their part in traditional Lederhosen and there was typical lively Oktoberfest music too. Those who embraced the spirit of the festivity and donned a costume received a gift. There was also a last-minute lottery and one lucky winner won a €100 to spend at Kare.
Kare's flagship store is in Munich, but their venue in Mallorca is certainly worth a visit with a 900m² showroom dedicated to exciting designs in furniture, lighting and home accessories.
Address details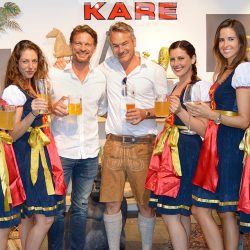 Kare Mallorca
C/ València 47, Polígono de Son Bugadelles, Calvià