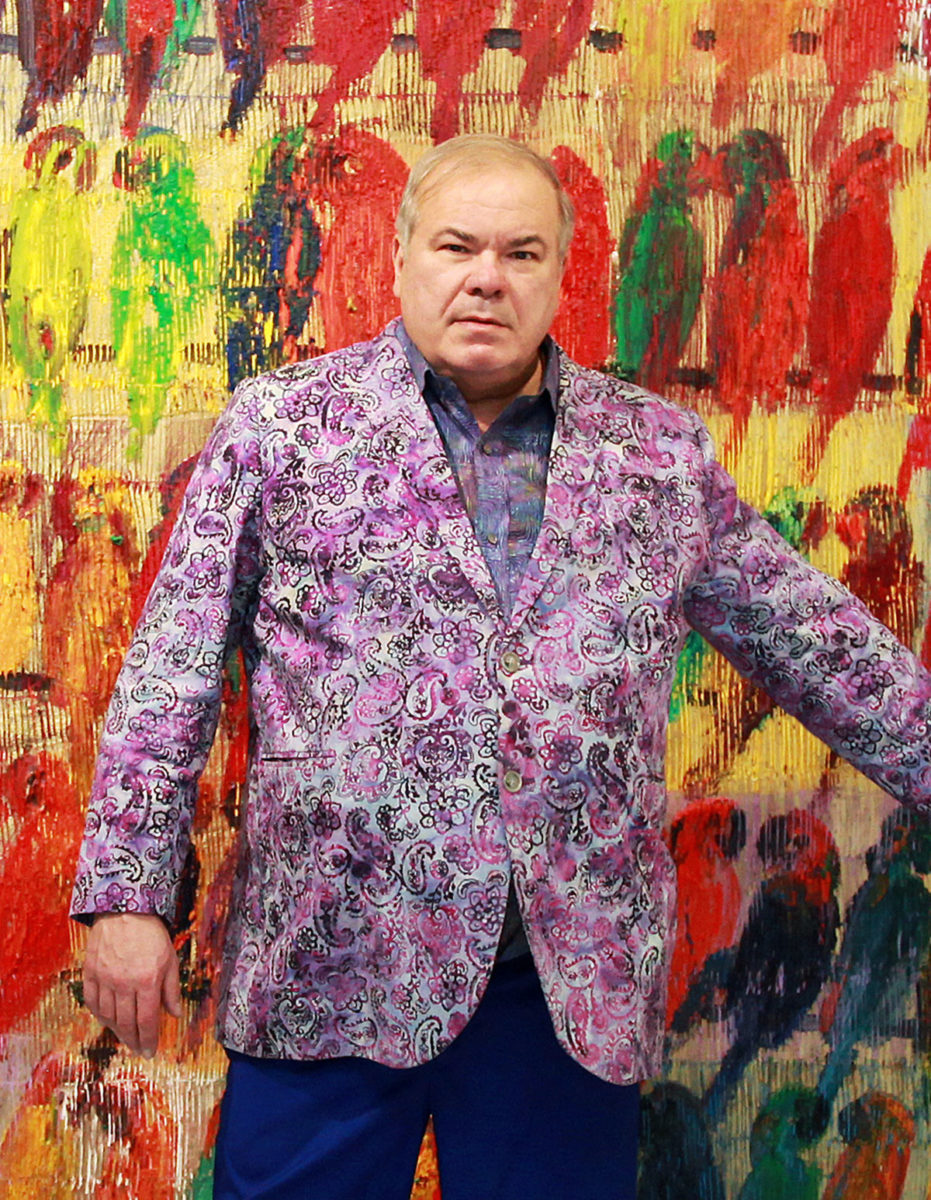 The studio is of epic proportions, as are most things in the artist Hunt Slonem's life. A cavernous warehouse with large casement windows, it is a maze of gothic furniture, collections of top hats, colourful clustered bottles, a jungle of rare orchids and plants, and hundreds of rabbit paintings are hung floor to ceiling, salon-style.
"I was born the year of the rabbit," he explains.
Born in 1951 in Kittery, Maine, Slonem always knew he wanted to be an artist. While attending Tulane University in New Orleans, Slonem studied painting and developed a love for the South. After graduating, he moved to New York City in 1973. His painting oeuvre has been consistently decorative and figurative; falling loosely between neo-expressionism and fauvism. Large canvases with dense layers of paint depict claustrophobic clusters of butterflies, bunnies, parrots, and a 'Guardian' series of monkey eyes, inspired by Frida Kahlo's monkey paintings.
He is intensely prolific. Slonem paints every day, starting with a small rabbit as a warm up, and works wet on wet, so he can paint quickly. This 'spontaneous' way of painting produces an enormous body of work every year and he exhibits internationally, continuously.
The compulsive production and obsessive themes of his work are attributable to Warhol's factory – where Hunt and his brother Jeffrey hung out in the 70s and became fixtures. He paints multiple portraits of Abraham Lincoln and Queen Victoria. The imagery is iconic, but it is not kitsch. Layers of paint reveal something about Slonem's process that is primitive and raw, more aligned with Jean DuBuffet than Keith Haring.
This confluence of styles and the secondary narrative of his work have given Hunt a definitive and consistent voice in the contemporary art conversation. His larger-than-life personality has attracted a tribe of loyal collectors (the Kardashians are fans). His paintings hang in the permanent collections of the Metropolitan Museum of Art and the Miro Foundation, as well as dozens of smaller museums.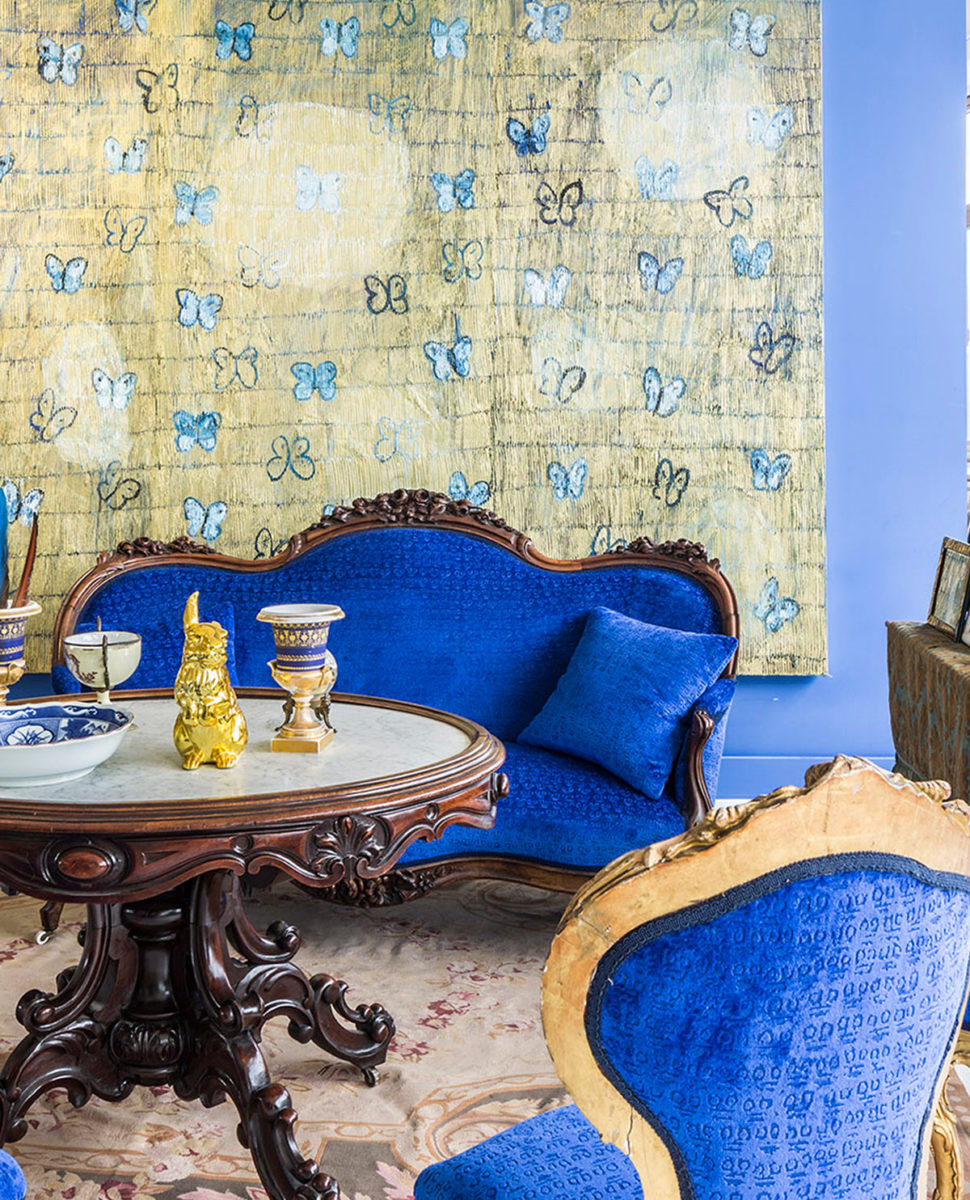 Slonem has had the kind of freak financial success analogous of young Gagosian gallery art star Dan Colen, yet he is approaching 70, and painting the undeniably banal bunnies and birds.
When asked about his pastoral obsession he quips: "Why did Rousseau paint tigers in Paris?" Along with antiques and birds, Hunt collects properties, all of which are behemoth, and which he transforms into "time warp environments".
Hunt has amassed three grand plantations in Louisiana, several properties upstate, and his most recent acquisition, an armoury in Scranton, PA. The armoury serves as personal museum for his painting and display for his collections of paintings, furniture and objects (he estimates he sent 500 truckloads of cargo from New York to Pennsylvania).
Stepping into the armoury is not unlike falling down a rabbit hole; the dozens of rooms painted florid colours are arranged in Mad Hatter domestic vignettes.
An astounding display of excess and imagination, a coffee table book on the armoury, 'Gatekeeper: World of Folly' was published by Assouline June 2018.
A self-described "glutton for colour" each of his properties reveals a predilection for jewel-tone brocades, marble busts and Victorian carved camelback sofas are arranged meticulously into the "time warp environments".
In person, Slonem is a beguiling and well-mannered dandy; dressing in colourful printed jackets and dapper haberdashery, Tennessee Williams could not have written a more convincing eccentric; full of contradictions, colourful stories and spiritual epiphanies.
An exhibition of the artist's work is coming to Mallorca in 2019 in collaboration with Gallery Red together with Terraza Balear.
Photos by Luigi Cazzaniga & Marco Ricca