Guests gathered for the relaunch of Gallery Red Mallorca on the highlight of the island's artistic calendar – Nit de L'Art. The event was celebrated on the gallery's spectacular new terrace, designed by acclaimed Italian architect and designer Teresa Sapey, who has transformed the space with bold lines and a vibrant Mediterranean palette.
An exclusive dinner party
Michelin-starred chef Maca de Castro provided guests with an outstanding dinner with top-class service by her Jardín Events team. Party planner extraordinaire Lluïsa Llull was behind the fabulous table decor, themed around white and delicate creams.
An international crowd
VIP guests from Mallorca, throughout Spain, and beyond toasted the inauguration of the beautifully arranged terrace, together with the relaunch of one of Palma's most iconic gallery spaces.
The mallorca distillery
Expertly mixed Gin and Tonic was provided by Byron Holland of the Mallorca Distillery, made from their newly released 'Palma Gin', a premium gin whose distinctive bottle is a work of art in itself.
Showcasing global talent
Curated by the gallery's owner Drew Aaron, the opening show featured a variety of works by well-known international and emerging artists, including those of Barcelona-born Andrea Torres (pictured).
Address details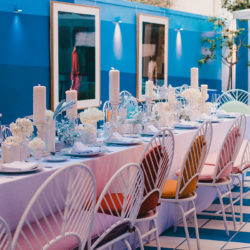 Gallery Red
C/ Can Puigdorfila 4, Palma