Depending on which study you read, the average European spends between 6-13 hours a week cooking. That does not include cleaning up or shopping, which easily doubles the time we spend preparing to eat.
Before I had a baby last year, I loved cooking long laborious meals. I would spend hours looking through recipe books, then drive an hour for tamarind paste, galanga, or shiso. I took pride in the fact we rarely ate out. Post baby, I find myself eating whatever falls off the tray of my son's highchair.
Enter Fitness Kitchen.
When I first heard about the meal delivery program developed by personal trainer Mark Anthony and his brother Simon Saeidaei, I was sceptical. How could three meals and two snacks delivered to your door costing €21 per-person per-day be, well, edible? I decided to try it out for myself.
Based on a six-day on, one-day off weekly meal plan, Fitness Kitchen develops a daily schedule specifically for your dietary and fitness goals. The packages are varied and include menus for both weight loss and strength building. Both brothers are nutritionists, and believe the carb-free chicken breast menus of diet fads, such as Atkins and South Beach, are difficult to sustain long term.
They prefer to promote a more balanced and structured style of eating, providing three meals a day that are varied, generous, and satisfying. For athletes in training, they offer calorie upgrades and downgrades in your plan depending on training days. They also offer bespoke plans, where you can choose your own meals. The menu is unexpectedly diverse and interesting. Each meal has a calorie count not so much so you can keep track of numbers, but so you can become mindful of what it is you are eating.
For breakfast, I had egg fritters with peppers and greens that were filling and took four minutes to heat up in the oven. For lunch I had curried chickpeas with potatoes and green beans, which was every bit as good as homemade and took seven minutes to prepare. For dinner I chose the chicken teriyaki, which tasted fresh, and took five minutes to heat up. With clean up, I spent a total of 20 minutes preparing the three meals: a daily saving of 1 hour and 40 minutes. Over the course of a week this amounts to a novel read, ten yoga classes, or an entire working day, free.
Sunday and Wednesdays meals are cooked from scratch with fresh local ingredients and delivered to your door anywhere in Palma. They include calorie-specific meals and snacks for three days. "If you need a day to eat pizza or ice cream in order to keep to the plan, then you can have Sundays to eat what you like," Mark says, "You save so much time not having to cook, and your time is valuable." I couldn't agree more!
Photos by Sara Savage
Address details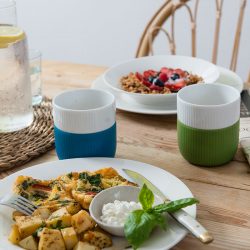 Fitness kitchen Mallorca