Knowledgeable contemporary art collectors and enthusiasts know that one of Europe's most multi-faceted cultural centres is not in Paris, London, or Hamburg – but in Andratx, southwest Mallorca. With its focus on art, CCA Andratx also offers cultural events and exhibitions every month and hires out its facilities for private and corporate events.
A tribute to art and Mallorca, the unique CCA – at the foot of the Tramuntana mountains – is in the midst of spectacular nature. Founders Patricia and Jacob Asbaek opened it in 2001 to attract the latest art and most talented artists working in classical and contemporary styles.
The impressive 4,000m2 modern building was constructed from traditional Mallorcan 'marés' stone to complement its natural surroundings. If it resembles a modern monastery, that's appropriate for the contemplation and creation of contemporary art; it even has a splendid cloistered courtyard where concerts, cultural, and private and corporate events take place during warmer months.
It's an incomparable centre: all over the world you'll find galleries, exhibition spaces, and artist-in-residence programs – but rarely are all together in one space as here.
CCA Kunsthalle (Art Hall) is similar to leading museums, with a special exhibition area of 2,000m2. It's one of Spain's most interesting and challenging places for contemporary art.
CCA Gallery exhibits the works of artists from all over the world. Many artists ending their stay in the CCA Studios hold an exhibition here.
The CCA Studios embody the spirit and future of the centre. Over the past 15 years, more than 500 talented artists – including some well-known names – have come from over 20 countries to work and live in one of these purpose-built studios. Once a month, CCA offers a 'Meet the Artist' tour through the exhibition halls.
To celebrate the revival of Spanish art, the space aptly named Espai is devoted to aspiring local artists. Art offers sustenance for the heart, mind, and soul; for bodily sustenance visitors can enjoy the combination of art, nature, and high-quality gastronomy at CCA Bistro La Alacena – with its terrace views of the magnificent mountain behind.
CCA Andratx director Mercedes Korzeniowski says: "Institutions like this make Mallorca stand out favourably in comparison with other destinations."
Address details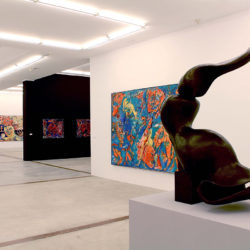 CCA Cultural Centre Andratx
Calle Estanyera 2, 07150 Andratx