There's something extremely civilized about brunch – the late morning meal that's a leisurely substitute for breakfast and lunch. For a start, everyone's awake enough for decent conversation! And when brunch is over, there's still a large expanse of the day to enjoy before it's time to think about dinner. What other excuses did abcMallorca need to enjoy a very special brunch? Hotel Son Boronat, near Calvià, was the chosen location. First-time visitors might wonder what awaits them at the end of the rough track leading to the rural finca of Son Boronat, from the Calvià-Puigpunyent road – but they'll be enchanted by this picturesque rural hideaway. The hotel's marketing strapline is "Our home, your hotel" – and those few words encapsulate the hospitality and warmth of  Danish couple Johnnie and René Kobbelgaard, who have run the hotel since 2009.
Why did they leave their comfortable lives in Copenhagen for the hospitality business here? "For many years we had the dream of moving to Mallorca and one day opening a hotel," explains René, who previously worked for travel giant TUI, latterly in marketing. The bankruptcy of the airline for which Johnnie had been working was the catalyst for selling their house in Denmark and moving to  Mallorca. Initially, they'd planned to buy an apartment in Palma, but couldn't find what they wanted.  On mentioning to their Danish estate agent that their long-term goal was to own a small country house hotel, they were taken to see several on the market. Son Boronat, set amid pine-clad hills and fields, ticked the box that said their hotel should be within half an hour's drive from the airport and close to Palma.
René's parents came over to help them clean the place up. It took a month. "It was the first time my dad didn't shake his head and say 'you're crazy'," René recalls, laughing. Starting a hotel in a recession wasn't easy: "The first two years were very tough – especially in the winter." 2011 looks like being an easier year for them: An article about Hotel Son Boronat, published in March in Denmark's leading newspaper, has generated more than 50 enquiries and a healthy number of bookings. The hotel is open year-round and has five rooms, with plans for a further two. Within the property's 200-year-old walls are the main house, a chapel, former stone-sinked laundry, olive press and stable buildings. René and Johnnie have turned the place into a comfortable, stylish hotel, without detracting from its delightful authenticity.
As well as hotel guests, they welcome diners to their restaurant from Tuesdays to Sundays. They could accommodate more than 16 diners, but want to retain the intimate atmosphere and personal service they offer their guests, so booking in advance is essential. The daily-changing three-course set menu costs 19,50 € (excluding drinks). What's the inspiration for Johnnie's gastronomic treats, which attract many locals and island visitors? "Cookery books, magazines and TV programmes," he says. "We've also been inspired by restaurants we've visited around the world but, most of all, we try to transform any dish with our own personal touch, made with love."
Johnnie and René are extremely (and justifiably) proud of their Royal Copenhagen dinner service. They didn't expect non-Danish clients to be so enthusiastic about the blue and white china but one British regular diner (with family in Denmark) has shown a great interest – even bringing the couple an informative article about the history of Royal Copenhagen's hand-painting. He's now affectionately nicknamed 'Mr Royal Copenhagen'.
Interior designer Kristin Dennewill was invited to style the table for our brunch: "I went to the hotel in advance to meet the guys and was shown their Royal Copenhagen dinnerware. So I started with the gorgeous plates and the beautiful rustic setting and went from there, which led to the blue theme." Kristin sourced a designer denim tablecloth (125 €), linen napkins and an ikat print napkin – for the bread basket – from lifestyle store Rialto Living in Palma.
Flowers are an important design element on a dining table; Joanna Walton created our floral decoration, making fig leaf 'baskets' containing oasis, in which she placed a few sprigs of white oleander (which is poisonous so should not be placed on food) and lavender. "The dark green leaf worked well with the dark denim, and the small white flowers lightened the whole effect," explains Joanna. To complement Johnnie's elegant salmon dish, she added a single bloom of a Vanda orchid to each place setting. Flowers for your own table? Joanna suggests adding a few small pots of miniature peppers (capsicums) or basil – the latter is said to deter mosquitoes.
Johnnie and René served us the perfect brunch: fruit salad, home-made chocolate muffins, energy brunch rolls with oats, cinnamon rolls, pancakes with blueberries and maple syrup, and a sophisticated Salmon Tartarian – a 'tower' of fresh smoked Norwegian salmon chopped with red onion and fresh herbs, topped with tiger prawns and red caviar. Now that's what we call a civilized brunch . . .
Photos by Sara Savage
Address details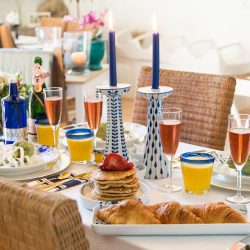 Hotel Son Boronat
Cami de Son Boronat, 18, Calvia