The Business Community
Get access to a cosmopolitan business club made up of entrepreneurs, senior business executives and thought leaders who can support you to magnify your impact while collectively making a positive contribution to business in Mallorca.
Our values
These are the guiding principles that unite us to achieve our mission to nurture purpose-driven local businesses in Mallorca to thrive, prosper and grow.
Together we are better.
It is in giving that we receive.
You can achieve anything you set your mind to do.
Always strive to be the best version of yourself,
Navigate and accelerate your business journey as a successful entrepreneur with our support and encouragement.
hc/ Members' Events
At hc/ Connect & Grow we organize monthly events, workshops and activities for members to participate in while creating valuable connections. Here is an overview of some of the events that you can join when becoming a member:
Business networking lunches & dinners
Every month, we invite you to participate in our hc/ Connect & Grow business lunch. After six fully booked hc/ Connect & Grow events, our networking lunches have proven to be a successful way of bringing members together and creating meaningful connections and collaborations.
Our next hc/ Connect & Grow business lunch is taking place on Friday 4th of November at Cabra Blanca Restaurant, in Santa Maria.
Don't miss our hc/ Connect & Grow business lunch in December that will take place on the 2nd of December in Cantina Panzá, in Palma.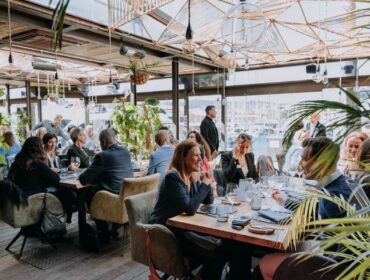 Join us for the next hc/ Connect & Grow networking lunch taking place on Friday 3rd of November at Kurobota Contraste restaurant in Santa Catalina. Book now!
Business Workshops
Dr. Helen Cummins has a 30-year business career where she has provided business training and mentoring to countless business owners. Ignite your online growth today through the power of digital marketing and story branding in a 3-day in-person workshop.
The upcoming hc/ Connect & Grow workshop is taking place on the 22nd, 23rd and 24th of November at our hc/ Living and Business Lounge and is limited to 8 participants (open event).
Social Outings
Meet other members in a relaxed atmosphere, build friendships and make connections while enjoying meaningful activities all around the island.
Join other members in the upcoming hc/ Connect & Grow hike in Port Sóller on the 12th of November.
Retreats for business transformation
Take a break from your daily routine and reconnect with yourself while building friendships with other members of hc/ Connect & Grow. These Retreats for Business Transformation are designed to boost your business by providing you with the confidence and inspiration you need to keep growing.
Our next Retreat will take place from the 17th to the 20th of November in Estellencs – FULLY BOOKED!
Guided visits
Get to connect with other members while you learn more about local businesses in Mallorca by attending our hc/ Field Trips.
Save the date for our next Field Trip on the 15th of December 2022 to Bodega Son Vich. This outing includes a guided tour of the vineyard and the winery facilities with explanations about viticulture, winemaking  and a tasting of 3 wines accompanied by quelitas, water, coca de trampó and cheese.
Price for members: 30€ + IVA p.p.
Price for non-members: 40€ + IVA p.p.
Yoga and meditation classes
Join Helen in these weekly members-only yoga and meditation classes for business prosperity.
These will start very soon at our hc/ Living & Business Lounge in the centre of Palma.
More activities and benefits
Your hc/ Connect & Grow membership also includes:
Accelerated Learning Classes to elevate your knowledge
Online Question & Answer Sessions
Masterclasses presented by industry experts
Retreats for business transformation
Field trips to discover more about local businesses
Access to the hc/ Living & Business Lounge for hosted events
Access to the digital platform to connect with other members, reserve events & participate in the member's directory