Portfolio of Joan Miquel Seguí Arquitectura
About Joan Miquel Seguí Arquitectura
Anyone seeking a reliable Mallorcan partner offering award-winning design and an international name for building or renovating their luxury dream home, should look no further than Joan Miquel Seguí Arquitectura.
The office, which specialises in residential projects, focuses on its clients wishes. "We go in search of the client's emotions," explains managing director and founder Joan Miquel.
We then examine the building or the plot of land. Is it historic? Is
there a nice view? These, as well as other factors, lead to the creative design which Joan Miquel doesn't approach in an abstract way. "I think through drawing," he says.
The company's work has been honoured Europe-wide which also highlights its international character.
This year, for example, Joan Miquel Seguí Arquitectura won the German Design Award in the "Excellent Architecture"
(Urban Space and Infrastructure) category for its canopy of the Estación Intermodal by the Plaza de España. Winning an international award for exceptional design of a public building is no easy matter.
The qualify ed architect who has already worked in New York, Lisbon, Barcelona and Paris, points out that the law and process approval are particularly complex on Mallorca. "Being a local and
working thoroughly really helps the process," says Joan Miquel, with a smile, and continues, "ideally, the client sees us before the actual purchase so that we can study the possibilities of refurbishing, extending or building a new construction." Joan Miquel Seguí Arquitectura offers its clients professional support and advice in all phases of the building process or renovation. Their language skills allow them to attend in Spanish and Catalan but also in German, English and French, if required.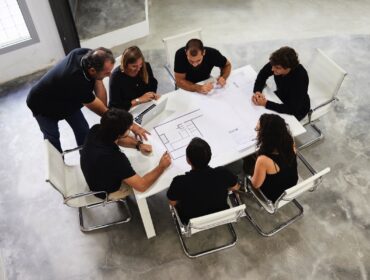 Discover which architects in Mallorca are changing the island's property landscape with their forward-thinking sustainable designs.
Photos of Joan Miquel Seguí Arquitectura