Portfolio of ICAZAR.architects
About ICAZAR.architects
With a main focus on projects in Mallorca, but also throughout Europe in Madrid, Sardinia, Paris and different spots in Germany, ICAZAR.architects designs high end properties that capture the vision of the client and the beauty of their natural surroundings.
Whether it's building a private home or developing a luxury boutique hotel, ICAZAR's goal is to reflect the qualities that make each place unique, setting out to form a rapport with their demanding customers and complete work down to the last detail.
Founded in 2012 by Ando Schirmer and Johannes Kiefer, ICAZAR.architects takes pride in offering their international clientele just that: step by step project management and consultation from initial concept and design to planning and construction through to interior design and installation.
As CEO and Managing Director, Ando Schirmer brings over twelve years' experience in the property development business in Mallorca and internationally, and Johannes Kiefer, the Head of Creative, holds degree in architecture and has vocational training in stonemasonry. Together they have built up a dedicated team of Spanish in-house architects, civil engineers, and finance specialists sharing the passion for the highest quality, along with local partners in property taxes and legal matters, ensuring a seamless process from beginning to end.
Working primarily but not exclusively in the private and hospitality segments, they take a holistic approach to building and clients feel secure in knowing they are being looked after and that their needs will be met. High-quality craftsmanship, technical expertise, and highest attention to detail are the signature marks of Icazar Architects, who won the International Property Award in 2014 in both "New Small Hotel Construction & Design," and "Residential Development" in London and Dubai for their Portals Hills Boutique Hotel. The warmth and spirit of the Mediterranean mixes with clean lines, modern design, and a respect for the local environment whether it is an interior renovation or a large-scale development. As it says on their website, "true luxury is rooted in the highest quality standards."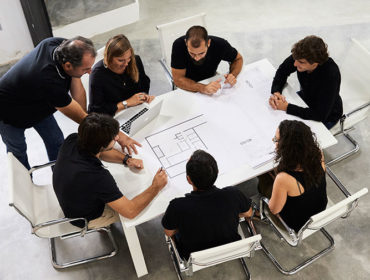 Discover which architects in Mallorca are changing the island's property landscape with their forward-thinking sustainable designs.
Photos of ICAZAR.architects