The pop-up dining phenomenon is taking hold on Mallorca. Charlie's Kitchen – run by private chef Piers Dawson and his wife Holly – reveals an appetite here for this trendy concept.
Exclusivity is one of the reasons for the success of pop-up dining: getting a buzz from eating out in a venue not usually accessible to the public. That's the case at Ca'n Ballester in Sóller – venue for the Charlie's Kitchen dinner in December. This superbly renovated spacious townhouse is not a restaurant, but a privately owned home – and location of two of these sell-out pop ups.
Private chef Piers Dawson knows the kitchen well, having often cooked for people who rent the property from its owners for holidays. Ca'n Ballester has a large kitchen/dining room, where guests sit at a long table with a view of chef preparing dinner.
Piers and Holly (who administers Charlie's Kitchen and her husband's private chef work) moved from London to Mallorca in April 2015 with their one-year-old son Charlie, for a more family-conducive lifestyle. Born in Australia to an English family, Piers moved to London around 20 years ago, and has worked for renowned catering company Alison Price & Company, and Global Infusion Group (Eat to the Beat). He's cooked in America, Asia, and Europe.
After a successful first season here, Charlie's Kitchen began as a winter experiment while many restaurants in the Sóller valley are closed. "We thought it would be fun to offer an alternative for eating out on a Friday night," says Holly. There'll be another Charlie's Kitchen in January, before the family takes a two-month break. Meanwhile, they are already looking for other Mallorca locations for future pop ups.
Twelve of us at Ca'n Ballester begin with a glass of cava and chance to meet each other, before taking our allocated places. The simple but elegant table decorations include tea lights and old Mallorcan floor tiles (discovered in a friend's garden) as place mats.
The printed menu reveals only the key ingredient of each of the eight dishes – which Piers explains fully on serving. We begin with two impressively presented successive appetisers: whipped aubergine on a seeded wafer (made from Piers' own sourdough bread), then silky smoked salmon purée on crispy salmon skin with caper dust. In Australia, Piers had studied graphic design; his natural artistic and creative talents show in every delicious dish.
The outstanding exquisite cuisine is the highlight of the evening, but the setting, finding common ground talking to new people, and the warm hospitality and personalities of Piers and Holly all enhance this memorable experience of the pop-up dining phenomenon. More please!
Charlie's Kitchen (Pop up)
Various locations in the Sóller Valley & island-wide bespoke private chef service.
Photos by Sara Savage
Address details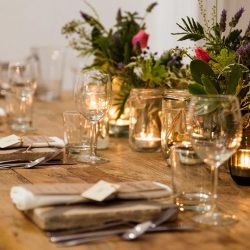 Charlie's Kitchen (Pop up)