LOEWE's Ibiza Summer Shop launched last night at the Museu d'Art Contemporari d'Eivissa. It celebrated the capsule collection in collaboration with the iconic boutique, Paula's Ibiza. To mark the occasion they also released a special music track called, "Close to Paradise".
Written and produced by Soulwax and curated by prolific sound director Michel Gaubert, the eclectic, escalating tempo is narrated by four local characters, providing four unique perspectives on the island's esoteric allure.
'LOEWE is a house that has always had a strong connection to culture – from photography to craft and poetry,' said Jonathon Anderson, creative director, referring not only to the music but the vintage illustrations on the limited edition vinyl.
You can listen to the track on Soundcloud and on Deeweestudio.com.
Address details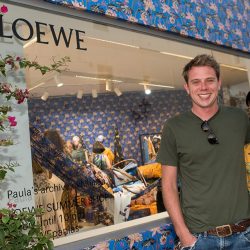 Museo de Arte Contemporaneo de Ibiza
Ronda Narcis Putget