Rialto Living hosted a special evening with the non-profit organisation Cleanwave in a joint effort to highlight the destructive damage that plastic is doing to our oceans.
The first half of the event was first introduced by Cleanwave's Line Hadsbjerg who gave a warm welcome before introducing the organisation's poignant short film 'Out of Plastic'. It is a captivating documentary which unveils the truth about plastics on the Balearic Islands and how this one material, in its many forms, is invading our beautiful part of the world.
After the film, Line's Cleanwave co-founder and husband Philipp Baier took to the stage and gave an insightful presentation which followed the rise of plastic on a timeline. He distributed helpful advice and explained the team's work in schools and their aim to significantly reduce plastic water bottles across the Balearics.
The floor was then opened to questions from the audience which ranged from the cleanliness of the water on Mallorca to what support is needed to see immediate change. Cleanwave's network of water refill points were hugely supported and there was encouragement for people to use their own Cleanwave bottle, which is made from sustainable stainless steel.
Philipp, full of energy and charisma, was happy with how the evening went. "An event like this is super important because it shows how people can come together. Having an interactive community like this shows there is a real interest and a willingness to change. For me it's an exciting time."
Barbara Bergman, founder of Rialto Living, was supportive in her Cleanwave t-shirt and spoke proudly of the event. "I'm really happy that Cleanwave came tonight to highlight such an important issue. I hope we can take away what we've learnt immediately, it's something we have to start with today, it can't wait."
For information about Cleanwave, 'Out of Plastic' and how to get more involved go to: https://www.cleanwave.org/
Address details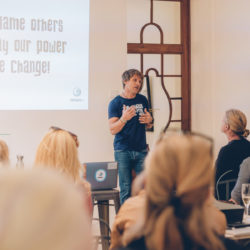 Rialto Living
Calle San Feliu, 3, Palma