Brand consistency is like the personality of a business. It's something a company does that shows commitment to its core values. As someone with a business background, I'm always interested in seeing brands at play; how they represent themselves and communicate with their customers.
So it was with a recent stay at Yurbban Passage Hotel & Spa in Barcelona, close to Arc de Triomf in an area dubbed Barcelona's Soho. I found myself quite absorbed by how the Smart Rooms Company – the people behind Yurbban – have pulled off brand consistency in a masterly way. It's not something that all hotels manage to get right, but then this is no ordinary hotel. The premise is 'Live as a native', and that's how you feel staying here: part of a creative crowd that really knows the city, surrounded by authenticity.
The hotel – a beautifully remodelled former textile factory – has superb bones, and interior designer Raquel Sogorb has created an intimate, welcoming space through generous use of fine natural materials such as oak, walnut and linen. Warm, flattering lighting casts its aura over every corner – including the bathrooms, a rare find. It is, however, the detailing that really raises the bar.
Yurbban Passage Triple Room
Yurbban Passage Suite Terrace
Yurbban Passage Doble Room
Yurbban Passage Lobby
Yurbban Passage Recepcion
Yurbban Passage Spa
We demand so much more from our travels now. I, personally, want a real, local experience; yet I also want to be well looked after and feel cared for as I enjoy a break away from responsibilities. Little inspirational messages in the lift; the graciousness of reception in responding to your needs; the significance present in the food and drinks, and art and design elements: it all combines to give the Yurbban heart and soul.
Entering feels like one blissful exhale, and from thereon in everything whispers relax, from the natural tones of the décor and wonderful sink-into chairs, to the serene yet highly capable demeanour of the staff.
I'm happy to say that I did switch off my analytical mindset during our stay. Treatments in the organic and vegan spa would surely unwind even the most stressed-out exec. I had two spa treatments: a 60-minute full body massage costing 85€, and a 75-minute deep-cleansing facial at 95€. With a combination of expert therapist touch, warm under blanket and the intoxicating smell of pure organic oils, I just floated away.
Along with relaxation, or course, comes fun. Barcelona, after all, is a young, spirited city. Our 12-year-old daughter, Ava, thrilled to the giant shuffleboard table in the lobby, and to the photobooth, complete with a thoughtful array of props (which she deployed with enthusiasm).
Another welcome surprise was the value represented by the food offering. At the time of writing a full buffet breakfast is 17€ per person, while lunch is priced at 15,90€ for a delicious three courses. In another show of innovation there's also a Kitchen Lab, a new concept that can be hired for meetings and show cooking happenings. Meanwhile, on the rooftop pool terrace and lounge, clever use of space comes a close second to the stunning city views.
Further than the impression left on me by the business brains behind Yurbban, I just felt good spending time here. My husband, Georg, said it was the best hotel he had stayed in for years. And that – the feel-good factor, not the stars – is when you know a hotel has truly won.
Address details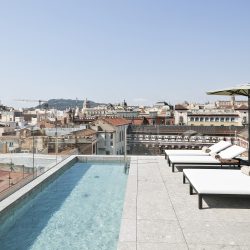 Yurbban Passage Hotel & Spa Barcelona
Trafalgar 26, 08010 Barcelona