Sometimes what we need is the space and time to find clarity and purpose to release the things that no longer need to take up space in our lives. In an idyllic villa overlooking the sea, Conscious Being Retreats makes this happen.
This is your invitation to give yourself space and time, as you slow down and disconnect from your daily routine. Join teachers Satya and Ali for a week of healing and calm in Ibiza starting 2nd July 2022. Included in their 7-day package will be yoga, pilates, meditation, cacao ceremonies, dancing, walking and much more. Delicious vegetarian and organic food will be on offer as well as 7 nights in a luxury villa overlooking the sea.
"It is my belief that everyone has access to an awakened state within. That inside, there is a version of you that is whole, fearless, joyful, and perfect, simply waiting to be rediscovered," says teacher, Satya.
If you're interested in getting a boost in physical and mental focus while finding your inner calm, get in touch with Conscious Being Retreats today.
Retreats:
Yoga & Pilates Retreats 2nd – 9th July 2022
Yoga Retreat 17th – 24th September 2022
Address details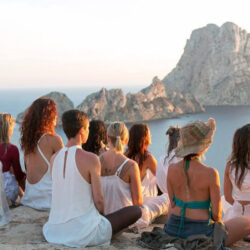 Conscious Being Retreat
Retreat villa, Ibiza