When you listen to Graham Wellesley talk about Villa Kerida, you can hear the passion in his voice. Upon seeing the exclusive, front line property for the first time in the mid 2000s, he knew instantly that he had to have it.
Originally built in 1970, the villa was in need of some maintenance, and Wellesley saw the potential to transform it into something magnificent. With a keen sensibility of what makes a home functional, welcoming and elegant, and a vast knowledge of architecture and design details, he has loving refurbished and perfected Villa Kerida with a personal touch that is rare to find these days, particularly in homes of this size.
Villa Kerida was the very first home built on La Mola, the precious strip of land in Andratx that is now one of the most exclusive neighbourhoods on the island. It is also one of the few properties that sits on an inlet with a personal jetty on waters deep enough to welcome a super yacht. The added charm of this feature was such that friends would frequently sail in for a leisurely lunch and then make their way to Ibiza.
These qualities alone confirm it as an excellent property, but the personal details are what make it really stand out. Some of the most creative and interesting aspects of the house come from Wellesley's graciousness as a host. Over the years he and his family welcomed many friends and family, and he said that listening to people's experiences while staying at the villa helped him devise some key architectural features that make Villa Kerida so unique. For example, designing an enclosed patio from the street entrance to the front door offers an immediate sense of privacy, calm and shade that sweeps you inside the house; an added layer of greenery along the edges of the property shields almost all visibility of neighbours; and perhaps the most impressive addition, a working steel and glass funicular which picks you up poolside and kindly brings you down the beautifully landscaped slope to the sea, where you'll find the private dock, sun terrace, and extra guest house, large enough for an indoor gym.
Subtle details reveal Wellesley's English heritage, he is the 8th Earl of Cowley and a direct descendant of the Duke of Wellington, and his love of English architecture. Using the soft beige stone found in Mallorca he had arches and pediments carved with geometric patterning inspired by medieval castles and his coat of arms that would be the envy of any English scholar, is carved into the entryway floor. Another impressive architectural feature is the top floor turret that offers panoramic views of the mountains and sea, and which would make an ideal office space or private yoga studio, depending on your plans for the island.
Traditional English accents such as wood cabinetry and fabrics, add a sense of warmth to the Mediterranean style with its open and light-filled spaces and soft colour palette of light greys and shades of white.
An ideal aspect of any home in such a beautiful location is having an easy flow between indoor and outdoor living. On each level Villa Kerida offers a sense of movement, with nearly every interior room having access to a terrace where there is always plenty of open and covered space for relaxing or eating.
One might question whether it is hard to give up Villa Kerida after so much time and care was put into it, but for Wellesley, who has been coming to Mallorca for over 40 years, it is a perfect opportunity to move onto to something new, leaving the villa in its best condition for future residents.
Photos by Sara Savage & Oliver Nielson
Property reference number: W-00AA87
See below for more Villas for sale in Mallorca!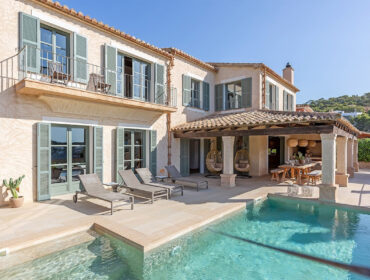 Discover the best Mediterranean villas for sale in Mallorca handpicked by Dr. Helen Cummins and team of local property experts.