Take a seat in the garden at Villa Wesco on Mallorca and you will find an oasis, a temple of beautiful things. It is a wonderful place where you can relax and unwind, soaking up everything around you.
"Mallorcans don't like to show off," says Ana Lado, director of Villa Wesco in Santa Maria. Anyone who has ever visited a classic Mallorcan stately home will know that seen from the outside, the window shutters usually remain closed. All is revealed once you pass through the gates, where a residence of unimaginable size appears beyond the traditional patio. It is like stepping into another world which is exactly what happens at Villa Wesco. The modest, modern front of this design and furnishing store conceals a whole world of surprises. Here, a huge showroom, with leafy garden and pool, extends across two townhouses with three floors and presents quality furniture and home accessories – modern, Mediterranean, magical, and inspirational.
The Wesco company, with headquarters in Arnsberg, Germany, can look back on a long history of German family business which established itself 150 years ago. It is internationally known for its own brand of colourful kitchen accessories and designer items. Cooking events held in the company headquarters, at a grand villa in the town of Arnsberg, also add to its popularity. "At the cooking events customers can experience the products first-hand," says Ana Lado, explaining how Villa Wesco in Germany attracts more than 100,000 visitors. With considerable imagination, perseverance and a committed team, the owners have, through the generations, created a long-standing brand which today is amongst the most successful kitchen manufacturers.
It is this entrepreneurial spirit that went into the development of its new product category – outdoor kitchens. An area of design that has benefited from Wesco's decades of experience in kitchen technology. In 2016, the company took on another adventure of this spirit, sparing neither cost nor effort in bringing a new dimension to the furnishing world on Mallorca. However, Villa Wesco had to adapt its concept to suit Mallorca's unique character. "Mallorca brought new challenges which allowed us to grow." Their success lies in entrepreneurial spirit, which is "to be different to everyone else," underlines Ana Lado, proud of what has been accomplished. "The lifestyle on Mallorca is different to that in Germany. The people are more international here and the different cultures promote more varied design trends" she explains. Germany, Belgium, Sweden, Spain – each country has its own language – which is also applicable to design. Therefore, quality and functionality always have to come first. "On the island people take plenty of time with their furnishing projects and seek individual advice. Then, once the decision is made, customers really value German reliability and speed!" laughs Ana. "Only those who are enthusiastic about design are able to pass on this enthusiasm!"
Ana's work on Mallorca is proving to be a success with customers coming back with friends just to show them Villa Wesco. She smiles, "our goal is to inspire."
Address details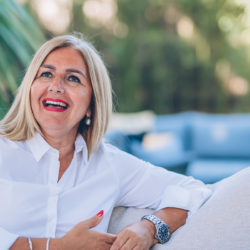 Villa Wesco
C/Bernat de Santa Eugènia, 28 - Santa Maria del Camí