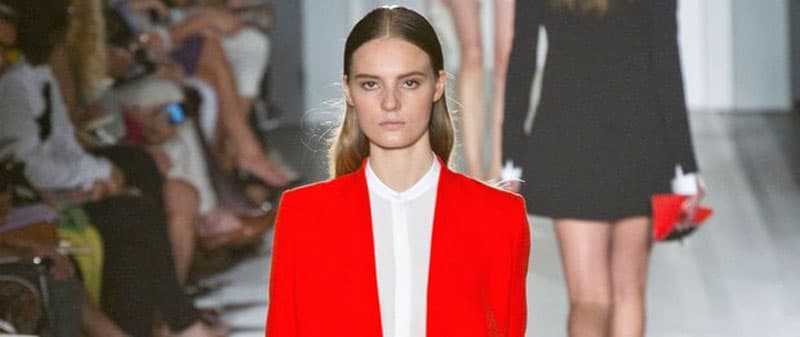 Victoria Beckham presented her Summer 2013 collection with a clear inspiration on China : a basic lacquered colour palette introducing silk, canvas and leather working together into knee-length dresses with mesh panels. Lingerie details as bras beneath most dresses or worn alone under a jacket. Sharply-cut silk and crepe jackets, worn over slim trousers or long skirts.
"I always design what I want to wear – but I wanted to design more than just another dress. It was about taking my aesthetic and applying it to separates." said Victoria.
And what about Winter 2013? During New York Fashion Week, Victoria Beckham presented her collection at New York City Library offering English tea while David chatted away with Anna Wintour on the front row.
Superb coats with tweed, herringbone and plaids mixed with strong cobalt accents,felted wools and Scottish cashmere, tuxedo dresses in Grazia yellow, bombers,midi pencil skirts traced with a zip at back, capes with slits to release the arms, square cuts,flat and men's shoes ( designed along with master Manolo Blahnik ).
'It's a reflection of me being in London all the time,' Beckham said after the show. 'I think you can see the influence there, with the heritage fabrics that we've used…. in a very modern, cool, sexy way.
This was VB's first knitwear collection, with v-neck dresses, and pleated skirts with 'techno-shine' strips.
'I've always been super super hands on,' she said, 'but the fact that I don't have to travel and I can be there every minute of the day has been great.'