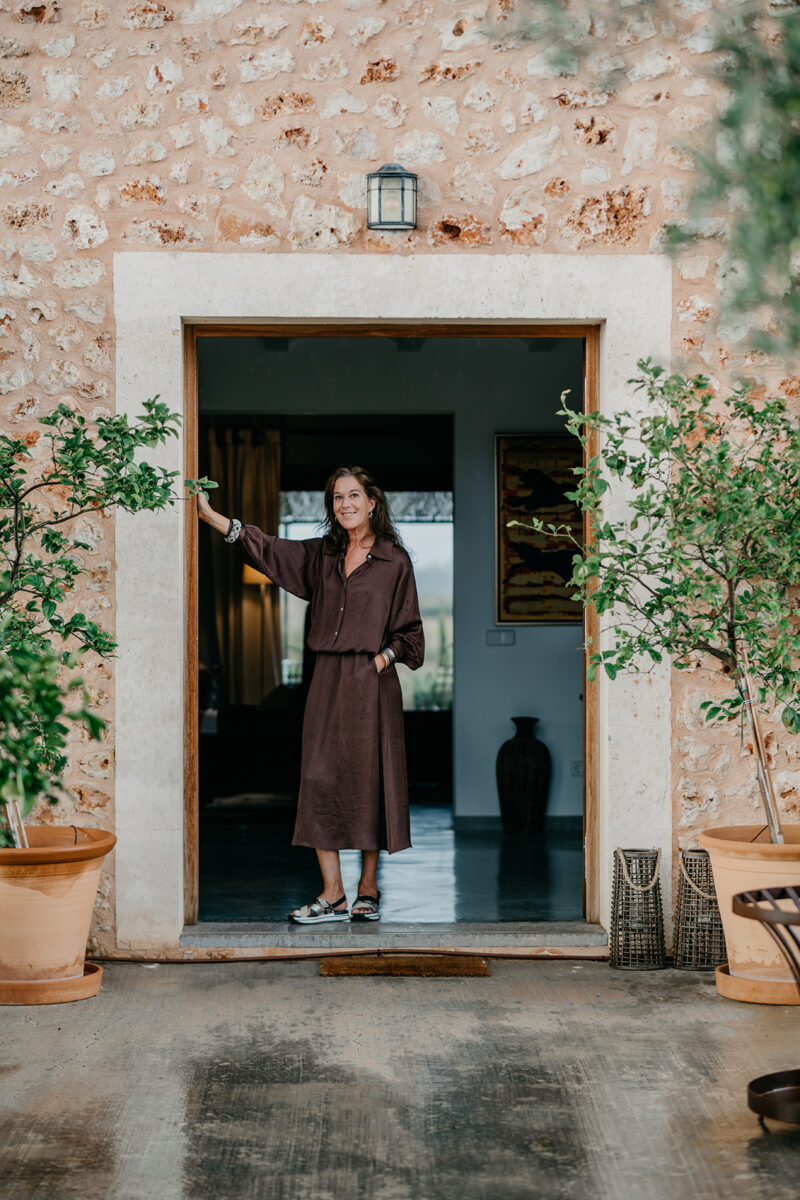 On the outskirts of Sencelles, interior designer Gerardine Loggere enjoys a view far from her usual residences in South East Asia. She is originally from the Netherlands, but has spent years decorating the luxury homes of Malaysia's royals, high-end hotels in Sri Lanka and South Korea, and private residences in exotic locations like Taiwan, Indonesia and Bangkok.
Now, Gerardine is in Mallorca and she is here to make an impact, spicing up the design industry with culture and absolute elegance. "I love to mix fabrics, layer old and new and keep it centred on what is local," she says, welcoming us into her country finca. Wherever we look, we're sucked into a whirlwind of senses from around the world. Flame-coloured lanterns take us to a remote island (somewhere idyllic), a dark maple cabinet conjures up a family heirloom (polished for generations) and then there are the misshapen ceramics from Sineu (bought just down the road). "I love working with things that are beautiful, whether it be a quirky antique or newly-made artisanal piece," she says, overall valuing simplicity in design.
Although based remotely from her offices in South East Asia, Gerardine has established a new design studio in Mallorca called Tara Design, set to open its doors in Palma in 2022. "Tara Design is a reflection of all the work I've done in Singapore and across South East Asia, bringing together the very best designs on our doorstep in Mallorca, while maintaining some cultural diversity," she says, showing us one of her mood boards. Corners of golden rattan and embroidered squares cover her table, making a fine patchwork of far-flung patterns. Her base is the colour of Mallorcan sand, which she then builds up with rougher textures. "I always return to materials like wood and stone, for me it induces a deep sense of peace," she says, reminiscing of a project she did for the King of Malaysia. "He wanted something simple and organic with a twist, which is definitely the style I gravitate towards."
With a background in fashion, working with fabrics is second nature to Gerardine. She is at the centre of her trade, sending wall coverings, textiles and leathers, lighting, rugs and accessories from Europe to Asia and vice-versa. Her connections span continents and her design projects reflect this, never boxed-in by one style. "I love using colour and a variety of patterns, and generally distance myself from more conservative, monochromatic looks." Gerardine says, of her love of amalgamating bold prints with natural textures. "Whenever I work with a client, I always ask them to show me the paintings and heirlooms that they love, I don't believe in everything being new. Antiques and vintage pieces give vital presence to a room. It's style that matters."
Since deciding to live predominately in Mallorca, Gerardine feels happy to be based back in Europe. Her family are just a two-hour flight away and the island offers plenty of inspiration for her upcoming projects (designing concepts for private residences as well as commercial spaces).
"The local artisanal sector in Mallorca is just amazing," she says, referring to a nearby Vicens pillowcase. We notice the same 'cloth of tongues' pattern in her garden, which Gerardine matches with a checkered fabric. "Mix and matching old and new," she says, smiling.
Written by Rosie Foot
Photos by Sara Savage
Address details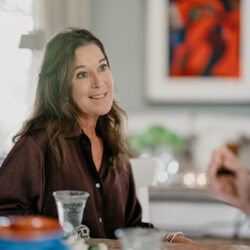 Tara Design Studio
Cami de Biniagual, poligno 5 parcela 36, 07140 Sencelles