Having skied at various resorts, I'm something of a fussy snow bunny. When you've only got an extended weekend, though, it's essential you maximise your time. Speed of travel, ease of getting kitted out, quality of surroundings and skiing: all combine to make or break the short trip. A recent visit to Mountain Lodge in Switzerland's Les Crosets won on all points, making our group very happy bunnies indeed.
Getting There
Just five hours after leaving Palma airport at 8.40 am, we had our skis on the snow. Forget checking in kit; we were straight off the plane with our weekend bags to be met by our driver, Oscar, ready to whisk myself, my friends to our destination.
Being so close now, anticipation of hitting the slopes was building, but this part of the journey, winding along a sparkling Lake Geneva, is a pleasure in itself. Oscar, who is working his third season at Mountain Lodge, of course knows this route like the back of his hand. Sitting back in the eight-seater transfer vehicle we relaxed and enjoyed the thoughtful offering of homemade flapjacks and cold mineral water. At Champéry we began the climb to Les Crosets, our base for the next couple of days.
We flew from Palma to Geneva direct with EasyJet. Flight time was 1hr, 20 minutes outbound; 1 hr inbound.
Arrival
Amazingly, had we been really keen, we could have been out skiing by 12.30. As it was, we checked in, had a quick lunch at the lodge while waiting for our friends to arrive from the UK, and sorted out kit hire.
The ski rental store is conveniently located inside the hotel and charges can be added to guests' rooms, which makes boot, ski and helmet fitting a breeze. Exiting the ski store we walked across a small footbridge, climbed 20 paces and found ourselves on soft, deep, powdery snow. After clipping on our skis, we descended down to the drag lift which in a couple of minutes took us to the Les Crosets ski area.
We were on the slopes by 14.00 this Friday afternoon, blessed by sunshine and clear blue skies. The lack of queues – we visited in early February, before half term school holidays – only added to the sense of perfect conditions.
After skiing to our hearts content all afternoon, our final stop on day one was at a simple mountain chalet restaurant – Chez Yoyo et Jibi for a well-earned glass of wine and tempting plate of cheese and cold cut meats. Evening had drawn in as we skied back to the lodge, a bright and beautiful full moon guiding our way. We had missed afternoon tea (served until 17.00), but of course the night-time skiing was something to infinitely treasure.
Mountain Lodge Hotel
Mountain Lodge Hotel
Mountain Lodge Hotel
Mountain Lodge Hotel
Mountain Lodge Hotel
Mountain Lodge Hotel
Mountain Lodge Hotel
Mountain Lodge Hotel Room
Charlie Chaplin
Mountain Lodge Hotel
Mountain Lodge Hotel Sauna
Mountain Lodge Hotel
Mountain Lodge Hotel Sauna
Mountain Lodge Hotel Room
Mountain Lodge Hotel
Mountain Lodge Hotel
Mountain Lodge Hotel Room
Mountain Lodge Hotel
Mountain Lodge Hotel Room
Mountain Lodge Hotel
Mountain Lodge Hotel dinner
Mountain Lodge Hotel
Mountain Lodge Hotel
Mountain Lodge Hotel Fire place
Mountain Lodge Hotel dinner
Mountain Lodge Hotel
Mountain Lodge Hotel Room
Portes du Soleil
Covering 600 km2 of ski terrain and 306 pistes, Portes du Soleil straddles the French-Swiss border. A true winter wonderland, this area is ideal for intermediates, with a vast choice of wide blue runs and more challenging reds.
Les Crosets is located on the Swiss side of Portes du Soleil, above the village of Champéry. Small and tranquil, the ski-in, ski-out Alpine resort has direct access to the whole region.
Mountain Lodge reception can quickly arrange ski passes for guests, but they do require 45 minutes to be activated so it's best to do this upon arrival. You'll also have to decide which area of Portes du Soleil you wish to ski: the Swiss or French zones, or both. We opted to stay in Switzerland on the first, shorter day, purchasing half-day passes. Saturday and Sunday saw our party skiing in both countries, incurring a slightly higher charge.
Mountain Lodge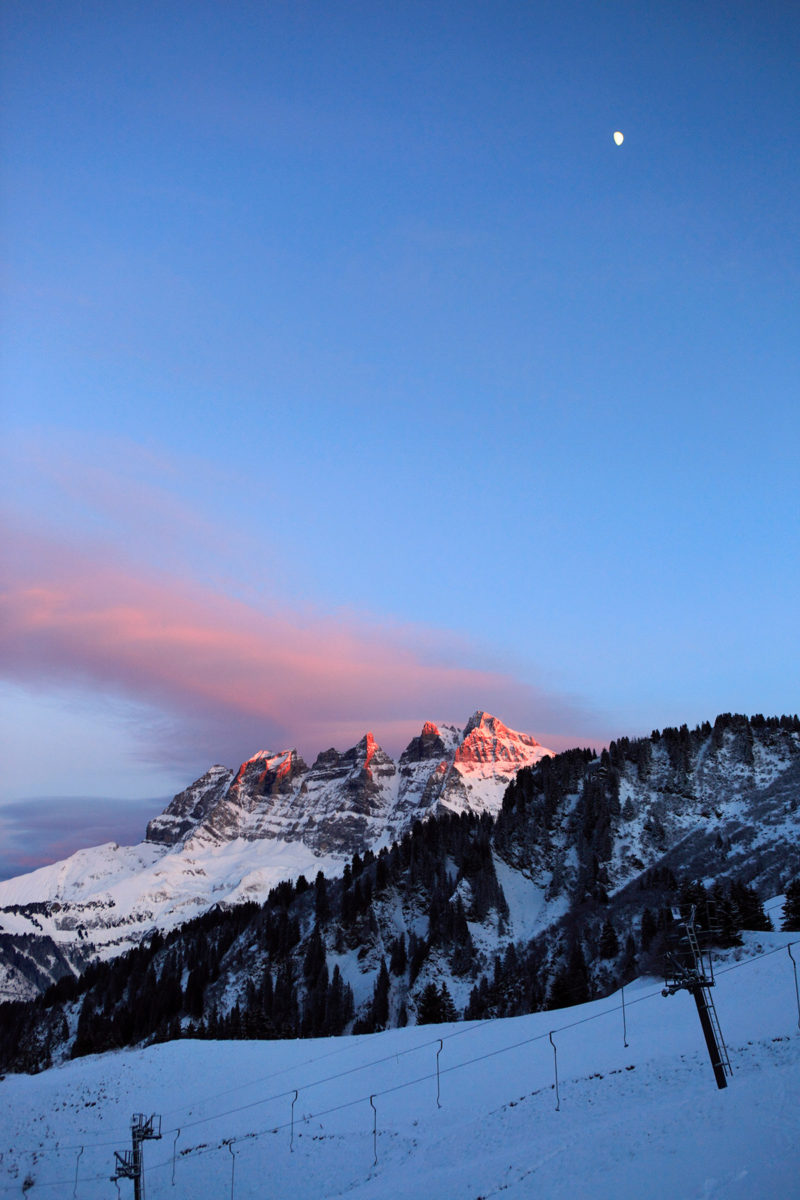 A low-key hotel, 24-room Mountain Lodge delivers exceptional comfort and convenience. Contemporary pine, natural fabrics and soft furnishings lend a homely, rustic feel to the surroundings.
Back at Mountain Lodge after an exhilarating day on the slopes, we enjoyed a warm and friendly welcome. Just off the cosy fireplace lounge, with big, inviting sofas and leather armchairs, Jay's Bar offers stunning views of the Dents du Midi. So called for its seven distinct peaks – resembling jagged teeth – this mythical mountain range in the Chablais Alps towers over 3,000 metres high.
To pass the evening lull, the coffee table is well-stocked with board games; the bookshelves stacked with books for guests to borrow. All the while, seen through large windows, are snow-covered slopes promising next day's adventure.
Hotel Facilities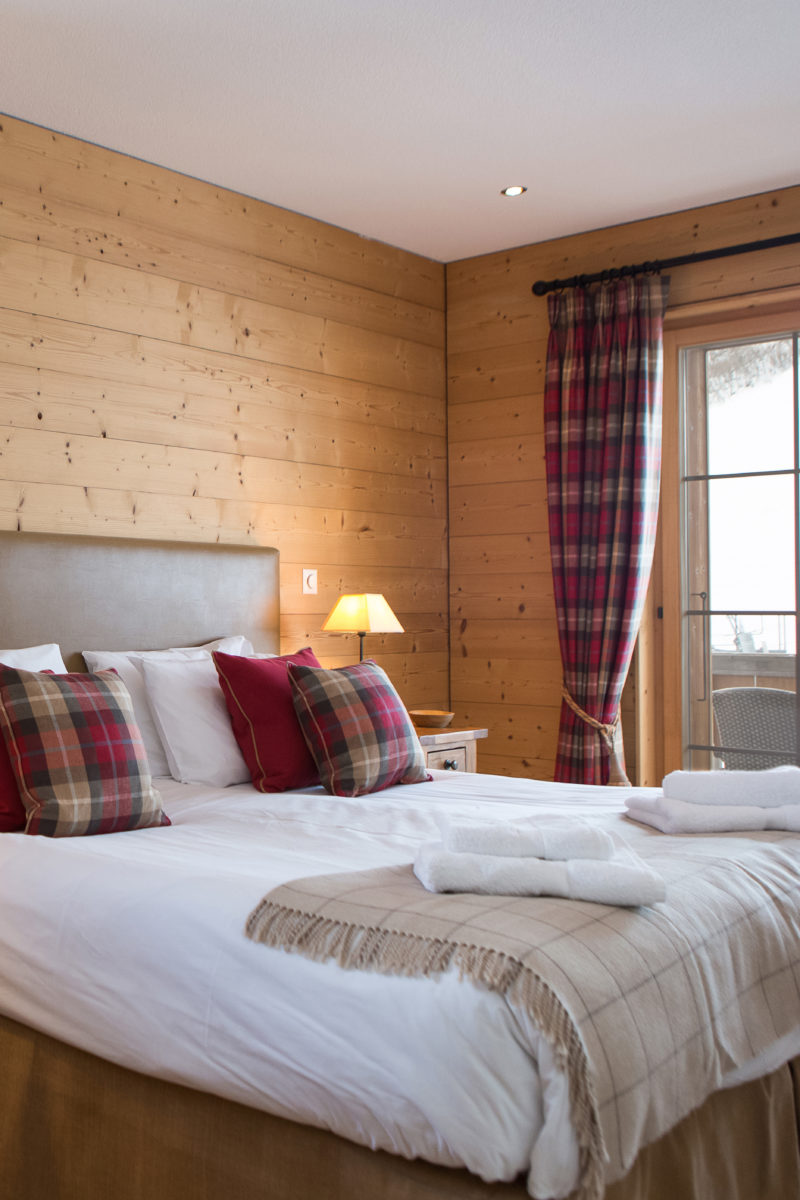 With creative, well-presented food, stand-out service, modern comfort and a variety of entertainment options, Mountain Lodge offers quality where it counts.
There is a 15-seat, surround-sound cinema room, which can be booked privately to watch a favourite movie. The games room has a pool table, TV with Sky Sports and games consoles for younger guests who pale at the thought of an entirely unplugged stay. The hotel does provide high-speed Wi-Fi access throughout.
The wellness spa features a pool with water jets, Jacuzzi, heated beds, sauna and steam room. A small gym offers a limited number of machines, but if you're loathe to skip training it does what is needed.
To encourage guests to slow down and disconnect, bedrooms aren't fitted with TVs – guests can opt to have one installed in their room upon request.
Each of the spacious guests' rooms has a balcony with views of either the courtyard or the Dents du Midi mountains. Generous king-size beds, robes and slippers, Ritual toiletries, hairdryers and tea and coffee making facilities; all those additions that make the difference were included.
During our stay, we especially appreciated the homemade flapjacks to take skiing, packs of tissues and boot warmers – little attentive details.
Food & Drink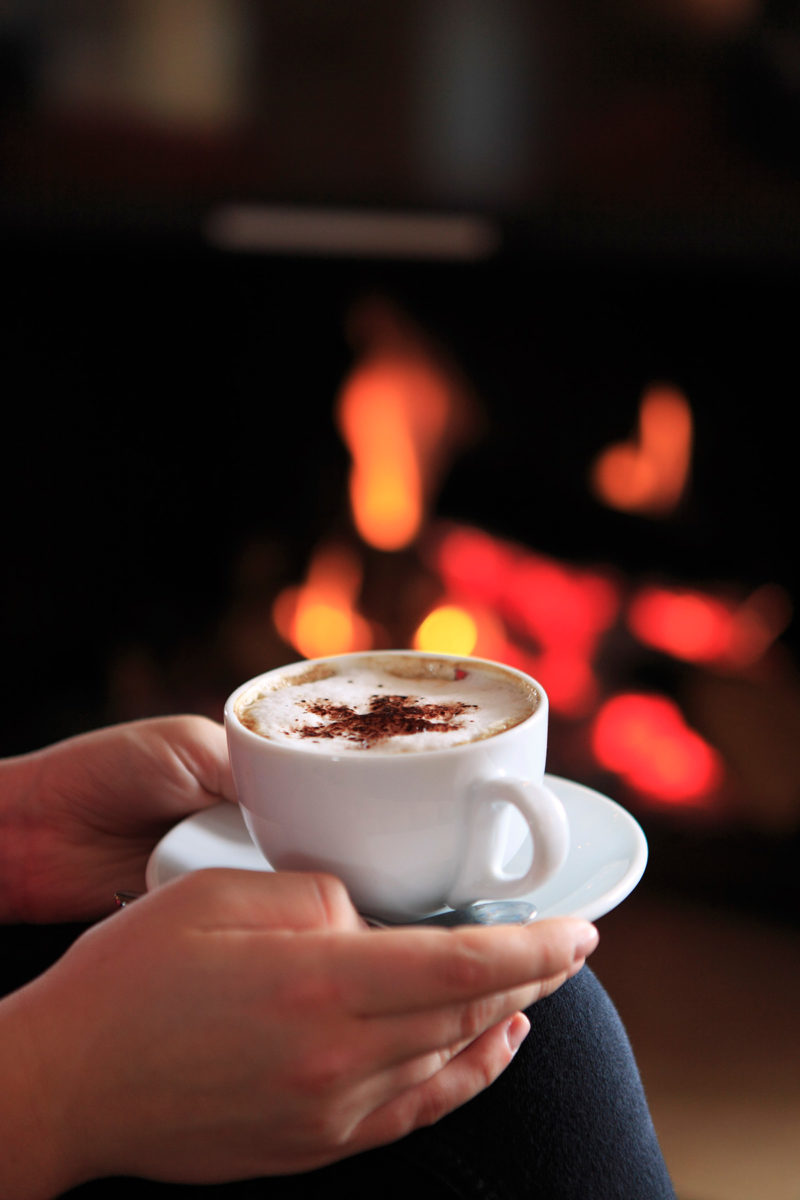 Food takes on a special importance at 5000 ft, with hours of daily physical exertion. Breakfast must be substantial enough to power a whole morning of adventure, and Mountain Lodge, with its daily breakfast special and a spread of cooked eggs and bacon plus selection of yogurts, cereals and home-baked breads, didn't let the side down.
The ritual of afternoon tea is even nicer when indulged in post skiing. The promise of homemade carrot cake and brownies, served with steaming cups of tea and coffee, made everyone ski a little faster back to the hotel.
At 20.00, after a pre-dinner drink, the dining room was buzzing. Each evening the restaurant at Mountain Lodge offered a number of 'specials' including soup, salad, main course and dessert as well as a good selection of à la carte meat, fish and vegetarian dishes. My meal choices were succulent scallops, traditional fish and chips and tender duck breast: all were a standard well above what you might expect for such an easy-going type of place.
Team spirit seems high here, and staff are notably friendly and caring towards guests which further adds to the pleasant vibe at Mountain Lodge.
Recommended Restaurants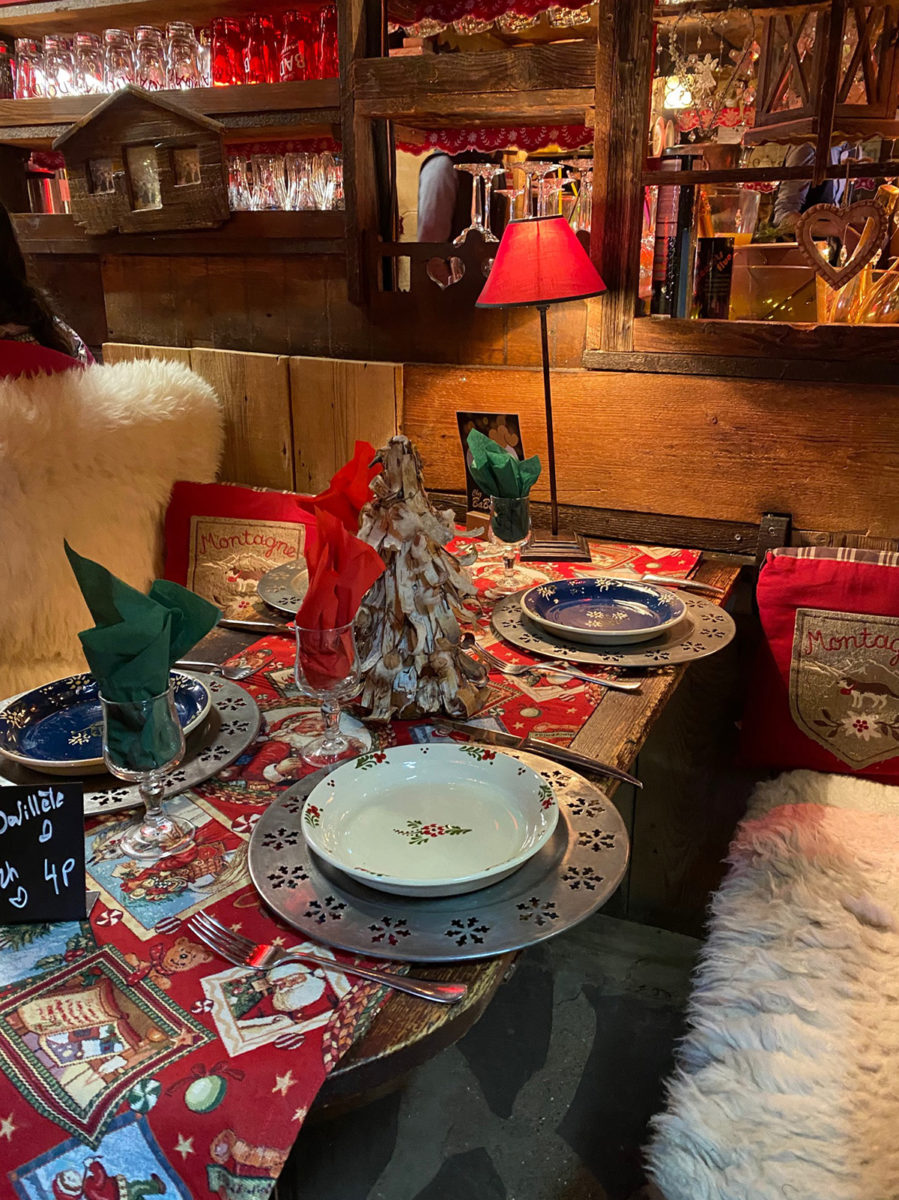 It's cosy, it's kitsch. Chez BaBeth is an adorable log cabin nestled on the slopes of Plaine Dranse near Morzine. The hands-on owner BaBeth gives everyone a warm welcome inside her treasure trove of a restaurant, packed with fur throws and fairy lights. A wonderful stream of Haute Savoie specials emerge from the busy kitchen.
Chez Yoyo et Jibi
We all thoroughly enjoyed this traditional mountain chalet restaurant, which offers local dishes as well as fondue.
Ü Yeü tsalé 1808
Whenever I visit Switzerland high on my list of priorities is a cheese fondue – our friends knew just the perfect place Ü Yeü tsalé 1808
– we shared a fabulous fondue sitting in the sun overlooking the mountains – for sure one of my most memorable cheese fondues.
A final Swiss treat before heading to the airport for our flight home was a visit to La Baron Tavernier in Puidoux-Chexbres. At this swish mini resort we experienced a few of the things Switzerland does best: a delicious plate of cheese and cold cuts, homemade bread and a glass of local wine, set to one of the jewels in its crown, the magnificent Lake Geneva.
Worth a Visit
If you have even the slightest curiosity about the late Charlie Chaplin, then consider a trip to Chaplin's World. Located in Corsier-sur-Vevey on the shore of Lake Geneva, a 45-minute drive from Les Crosets, this museum gives a fascinating look behind the legend, paying homage to the iconic actor; his career and private family life.
The weekend had bestowed beautiful, sunny weather but Monday was wet and windy so we chose to spend a happy few hours here. Afterwards, following a light lunch at the aforementioned La Baron Tavernier, we slipped onto the motorway for the hour-long journey back to the airport and our evening flight.
Value for Money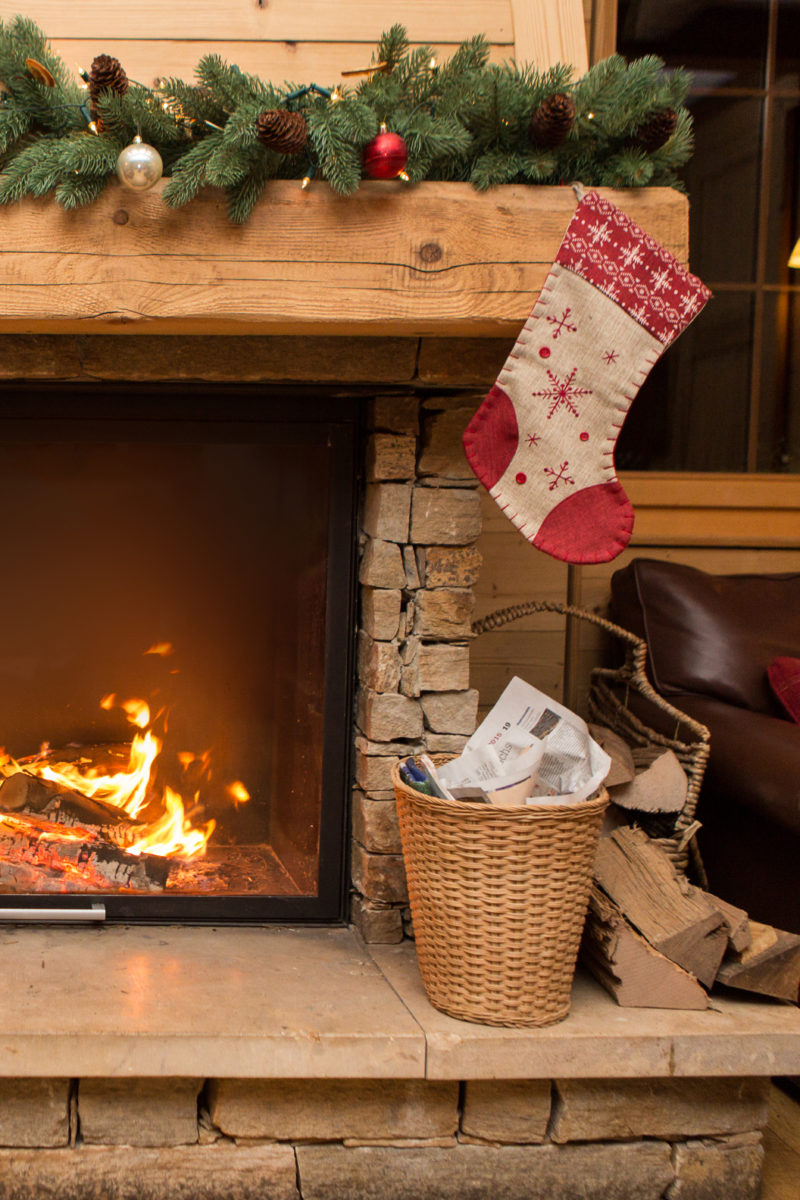 Peak season skiing can of course burn a hole in the wallet, but I found the quality for price at Mountain Lodge to be excellent. I paid £750 for single occupancy in a double room for three nights including accommodation, breakfast, afternoon tea and dinner. For the same package for a couple and one child sharing the price is £2,250. A half-board package represents particularly good value.
Mountain Lodge opens from mid-December until mid-April, and ski passes, equipment hire, massage, transfers and taxis can all be arranged by reception.
To book your winter mini ski break, call or email:
Penny Waldeck
Telephone: 0345 127 1750
mountain-lodge.co.uk
I will be returning to Mountain Lodge again with my family for another mini ski weekend stay. I loved the place and can imagine visiting here regularly in winter for many years to come – it feels like a home away from home!
Address details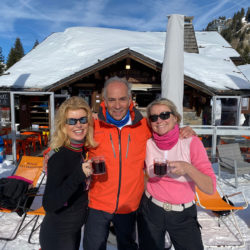 Penny Waldeck