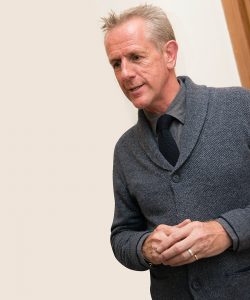 For Stephen Woodhams a garden is much more than a piece of greenery behind the house. His gardens are bustling outdoor spaces with scents and colours, where everybody likes to spend a lot of leisure time. "People need tranquillity, need to slow down, especially in our fast-paced society," says Stephen Woodhams, who presented his new book 'Garden Design Solutions' at Rialto Living in Palma.
In his book, the 50-year-old designer from London describes his best ideas, based on some 30 sample gardens: readers find an outstanding roof garden, Mediterranean outdoor spaces with plants or a swimming pool, and atmospheric courtyards or patios. Woodhams shows before-and-after photos, plans and layouts, and explains how the right materials and plant selection can create a garden in harmony with nature. Whether the space is large or small does not matter. Stephen Woodhams interprets gardens and terraces as the natural extension of the living space, with light and playful transitions from the inside to the outside.
His love for greenery has been "watered" since childhood: he is the scion of a passionate gardening family. Even as a child he enthusiastically planted bulbs in his grandfather's garden in Kent. In his twenties, he opened a flower shop in London and decorated the shops of fashion designer Ralph Lauren. Soon he also supplied hotels and began to sketch and create gardens. For his designs he has been awarded with a Gold Medal at London's famous Chelsea Flower Show – the 'Oscar' of the horticultural scene. He now has an office for garden design in London's Kensington Park. His flair for green trends is in demand worldwide – including Ibiza, where he has a holiday home and feels "spiritually at home".
He had his first Mallorca holiday at the age of 19. Since then he has been coming back to the island for garden projects. In his book he shows two gardens in Alaró and Sa Torre, how he deals with proportions, lines, and different structures of plants and materials. He uses cacti as sculptures, local materials like the Binissalem stone for decorative walls, and water arrangements for movement. Sound and light reflections in the garden are an added value. Whether to irrigate a garden or not, nowadays almost depends on an ethical point of view, argues Stephen Woodhams.
For Mediterranean gardens he recommends planting which only needs irrigation to grow during the first year, without requiring additional water after that. "There are very expressive succulents, which can be combined well with optically lighter grasses and native bushes," the garden designer explains.
His garden spaces always include weatherproof furniture and fashionable items. He enjoys working with coloured light spots and eye-catching planters, which he fills with seasonal flowers. Bulb flowers especially can produce a colourful reflection. On Mallorca this can be beautifully achieved with freesias, which bloom every year. However, his garden worlds are never too colourful: he uses a maximum of two colours in combination. His favourites are green and white plus one reflection.
"Don´t mess with colour, but give it the maximum power," recommends Stephen.
Address details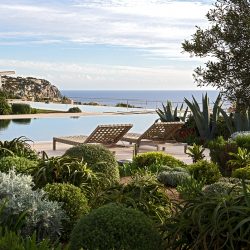 Stephen Woodhams, Garden Design & Consulting