Named after a Moorish farmstead that once inhabited the area, Alcanada is now a seafront settlement located just around the bay from Port d'Alcúdia. Unlike the popular resort town, it's a serene and exclusive enclave populated largely by what appear to be traditional fisherman's houses. They're actually part of a purpose-built summer village designed in the 1930s by renowned Menorcan architect Nicolás María Rubió Tudurí to emulate a traditional fishing settlement.
This certainly doesn't make this first-line villa any less attractive, with its quaint rustic interiors characterised by terracotta tiling, exposed beams and original window fittings. Its cosy, unpolished quality gives it a genuinely homely charm and romantic appeal. Views over Alcúdia's scenic bay include vistas from a beautifully tranquil terrace just steps from shore.
Its location also means easy access to Alcanada golf course, one of Europe's top seafront courses, plus there's the bonus of a holiday rental license already in place. All in all, it's a rare opportunity to snap up something rather special in a rather unique corner of the island.
See below for more Villas for sale in Mallorca!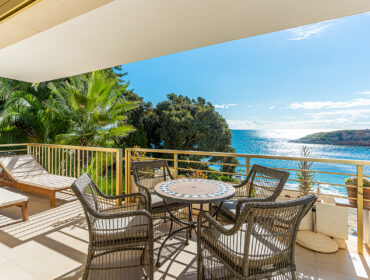 Discover the best Mediterranean villas for sale in Mallorca handpicked by Dr. Helen Cummins and team of local property experts.