Edgar Lagassi is undoubtedly no stranger to the world of hospitality. On the contrary, he and his partners Mariusz Szymecki and Andrius Kulbokas are true experts. After more than 20 years working in London with some of the top hospitality companies, including Soho House, they joined forces to open their own consultancy company. But it was a trip to Mallorca that set them on a whole new and unexpected journey. After completely falling in love with the island, they also observed that while most restaurants boasted amazing locations, they could use some help in terms of service, concept or marketing – that's how Five Senses Collection was born.
A high-class collection
After putting Beatnik in Puro Hotel in the spotlight within three months, they were already set for great success. But the strong impact of the pandemic pushed them to reinvent themselves. And it turns out, that's what Five Senses Collection does best. Venturing on their own journey as restaurant owners, they've only experienced success after success. The award-winning Merchants Steak & Grill at Palacio Can Marques, the innovative Wineing for wine and tapas, and the exotic Koh in Santa Catalina, with the well-known Chef Bonnie Han at the helm, are today amongst the hottest restaurants in Palma.
Their latest venture of reopening and carrying on the legacy of the much-loved Canela has been a very personal project for Edgar. But the creatives behind Five Senses Collection are not stopping there. The House of Hô, a fusion concept brought directly from London, will be overviewed by their culinary director Marcos Rosso, and is set to open soon in Sant Feliu. "We have high standards and we love to innovate, and when you do something with love, everything works out", says Edgar, pondering the bright future ahead.
Address details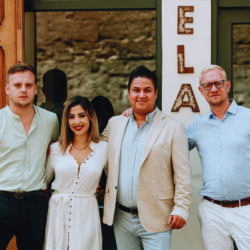 Five Senses Collection
Plaza Economo Parera 1, 4e, 07014 Palma De Mallorca