We asked Michelin-star chef Gerhard Schwaiger of well-known Tristán Restaurant, in Puerto Portals to prepare a special Christmas dinner.
GAZPACHO OF BEETROOT WITH KING CRAB AND CAVIAR  
Serves 4
This healthy, colourful and delicious starter is deceptively simple to create
at home.
Gazpacho ingredients:
2 tablespoons avocado oil
120 g red pepper
120 g peeled and pitted cucumber
400 g tomatoes (no need to peel or de-seed)
Freshly squeezed juice of 1 kilo of beetroot
Salt and pepper to taste
Fresh grated ginger
Thickener
Gazpacho preparation:
Sweat the tomatoes, peppers and cucumbers in a pan with the avocado oil,
then pour in the beetroot juice. Simmer until well blended and add thickener, stirring in
well. Sieve and season with ginger, salt and pepper, then chill until
ready to serve with the king crab.
Marinated king crab meat ingredients:
8 tablespoons cooked king crab meat
4 tablespoons crème fraîche
2 tablespoons chopped chives
Salt and pepper to taste
4 tablespoons caviar to garnish
Preparation of the marinated king crab meat:
Mix crab meat, crème fraîche, and chives and season. Place small stack in the centre of each bowl and garnish with caviar, then pour gazpacho around.
FILET OF BEEF BeefWITH CHIMICHURRI SAUCE
Serves 4
Ingredients:
4 pieces of beef fillet (180 g each)
Sauce:
4 peeled cloves of garlic
1 bunch parsley (whole)
4 tablespoons olive oil
1 tablespoon white wine vinegar or balsamic vinegar
Salt and pepper to taste
Pinch of sugar
Salt and pepper the beef fillets and brown on all sides in frying pan. Place on grill in preheated oven (90°) for 35 minutes (depending on how 'done' you like your beef cooked) turning it again and again. Remove the fillets and fry again in oil for 3 minutes before putting onto plates.
For the sauce, blanch the parsley in hot water, then plunge into chilled water. Drain the parsley, wring it out and place with remaining ingredients into a blender, processing it until everything's completely mixed. Serve with the beef.
CHOCOLATE PEANUT SLICE WITH LYCHEE ICE CREAM
Serves 10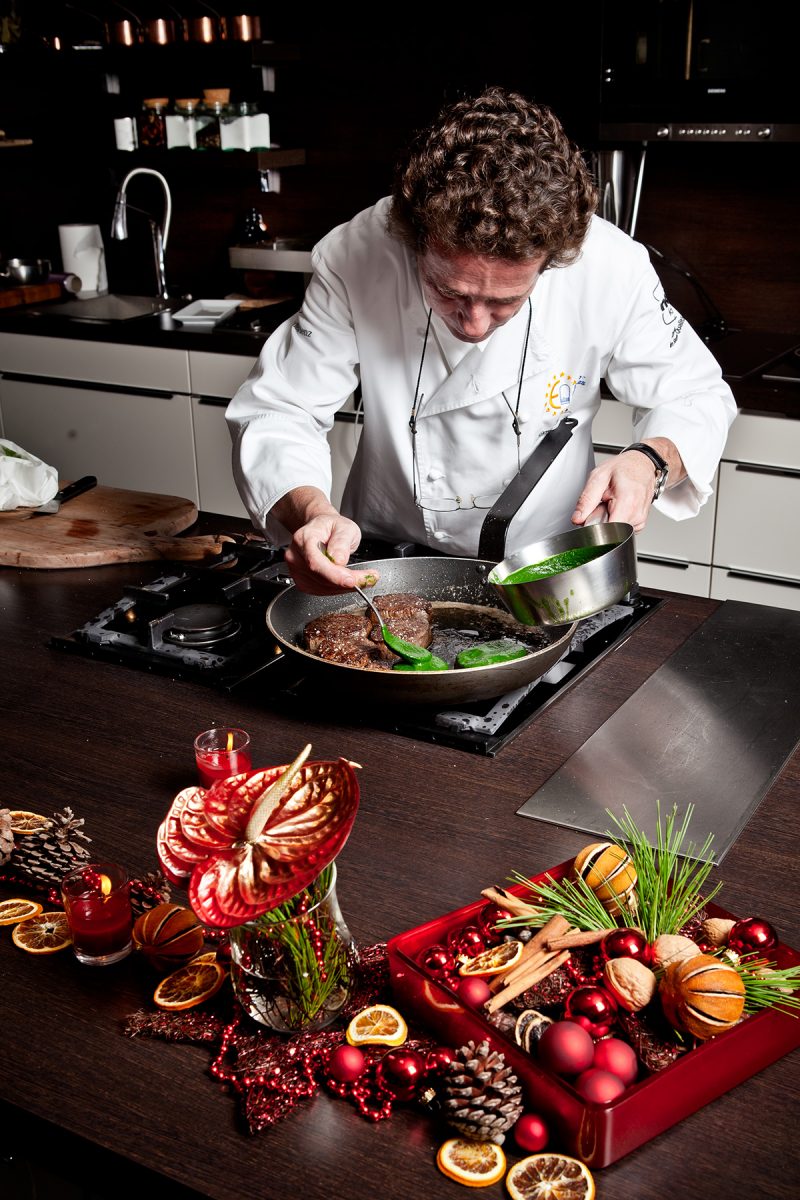 Gerhard Schwaiger's luscious layered chocolate and caramel dessert makes a fantastic finale to a gourmet dinner. Creating the chocolate peanut slice at home is probably not for the novice – or nervous – cook, as several processes are involved, but if you enjoy a culinary challenge, this is one to try.
Chocolate cake base:
65 g butter
50 g 66 % couverture
60 g caster sugar
1 whole egg plus an additional yolk
25 g flour
Melt the butter and chocolate in a pan and mix with remaining
ingredients. Bake in greased tin (30 x 20 cm) in the oven at 100º C until firm – approximately 20-25 minutes.
Crunchy cake base:
35 g white couverture
35 g peanut paste
30 g cornflakes
Melt the couverture using a bain-marie and mix with peanut paste and
cornflakes. Now roll the dough between two sheets of baking parchment and
refrigerate briefly, before applying to the chocolate cake base (above).
Caraibe mousse:
25 g egg yolk
15 g sugar
40 g Valrhona Pur Caraibe 66 % chocolate
1 leaf of gelatine
100 g whipped cream
Whisk egg yolk with sugar over a bain marie until foamy and add the soaked gelatine to dissolve it. Melt the chocolate separately and stir into egg/sugar/gelatine mix, then carefully add whipped cream. Layer this onto the crunchy cake bottom and put into freezer.
Caramel mousse:
30 g egg yolk
35 g caramel powder
½ vanilla bean
1 leaf gelatine
125 g cream
Caramel powder:
250 g sugar
75 g salted butter
1/2 vanilla pod
Preparation of the caramel powder:
Caramelize the sugar and add the vanilla and butter. Pour on a baking tray and cool. Blitz to a powder in a food processor.
Preparation of the caramel mousse:
Crack the egg yolk with half of the caramel powder over a bain-marie.
Add the soaked gelatine (stir to dissolve), vanilla and remaining caramel powder, then whipped cream. Remove chocolate mousse-topped cake from freezer and add layer of caramel mousse, then return to freezer.
Mousse of Jivara:
60 g milk
30 g cream
15 g sugar
25 g egg yolk
4 leaves gelatine
140 g Valrhona Jivara couverture 40 %
120 g whipped cream
Bring milk, cream and sugar to the boil, carefully stir in egg yolk and the soaked gelatine and sieve immediately. Add the chocolate and carefully add the whipped cream. Remove cake from freezer and add this layer on top of caramel mousse.
Glaze:
75 g caster sugar
60 g cream
40 g water
5 g thickener
1 leaf gelatine
175 g nappage neutral (available from specialist patisseries)
Boil all ingredients without the gelatine. Then reduce with the soaked gelatine.
Lychee ice cream and lychee sauce:
50 g caster sugar
70 g milk
60 g cream
100 g purée of lychee
125 g white couverture
1 egg yolk
1 egg
2 g langerone (this ingredient should be available at ice-cream parlours making their own ice cream)
Bring sugar, milk and cream to the boil and thicken with the egg and additional yolk. Now add lychee purée and melted chocolate and thicken with the langerone. Churn in ice cream maker and freeze.
Lychee sauce:
250 g lychée puree
15 g caster sugar
Thickener
½ vanilla bean
Bring purée, vanilla and sugar to the boil and thicken with the starch. Sieve.
TO ASSEMBLE DESSERT:
Cut the frozen slice into equal portions and cover with the tepid glaze. Place in refrigerator to defrost. When defrosted, serve with lychee ice cream and sauce. Decorate as desired with mint, raspberries, chopped pistachio, raspberry sauce, chocolate.
Happy Christmas!