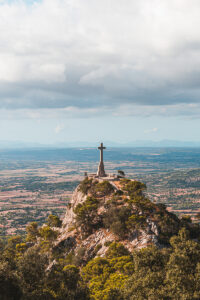 The country town of Felanitx is one of those lesser-known places that is much loved by its residents. While this modest settlement in Mallorca's south east lacks the star quality of some other towns, it has plenty going for it in terms of peace, space and affordability.
With a population of just over 18,000, Felanitx is large enough to feel there is plenty of life year-round, without being overwhelmingly busy. It has many amenities including a wide variety of shops, and those who live here find they can operate day-to-day with all conveniences, free from city stress and parking headaches.
An ancient town founded in the 13th century, Felanitx has many examples of interesting medieval architecture; not least the castle of Santueri, visible from town perched atop a tabletop mountain, and the imposing neo-gothic church of San Miguel in the centre. Such sights add to the timelessness and sense of history; a constant reminder that this is the real Mallorca.
For a low-key alternative to those long-colonized parts of the island, just a 15-minute drive from some of its most beautiful beaches – and a mere hop to one of its top golf courses – consider scouting Felanitx.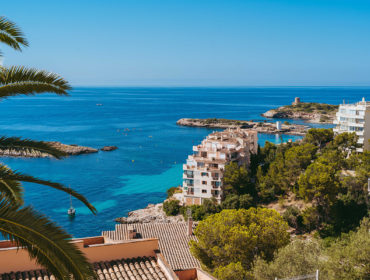 With its abundance of luxury villas, world-class golfing and air of serenity, the neighbourhood of Bendinat stands out as one of Mallorca's most exclusive.
While the real estate itself is attractive, the surroundings seemingly encompass it all, with plenty of amenities and conveniences, all with sea breezes under 300 days of sunshine.
Where to buy a property in Felanitx
Felanitx Centre and Surrounding Area

The central streets and surrounding areas contain a wealth of property options, from neglected original townhouses ripe for reformation, to those already rescued and renovated. You don't have to travel far from the historic cobbled streets to find rustic fincas set in their own grounds, surrounded by fields and vineyards but still within walking distance to the main plazas. A few kilometres out from the centre to the north and north-west towards Porreres, lie Son Valls and Son Mesquida. These quiet rural villages, blessed with an abundance of space and exceptional views, have numerous large, spread-out homes, with the luxury of no immediate neighbours. To the east, the area of Son Proenç offers sweeping views across the flat, fertile plain to the coast.
Cas Concos des Cavaller – S'Horta

These residential districts roughly eight and 12 kilometres from the centre of Felanitx respectively form part of the municipality, and give a great choice of million euro-plus properties. A few minutes' drive east of Cas Concos, the privileged zone of Es Carritxó is home to several multi-million designer villas.
Portocolom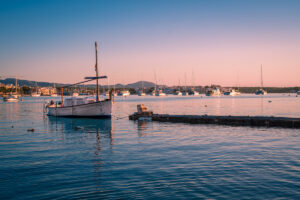 Also officially part of Felanitx, this pretty port town has altogether a different flavour. An established resort, Portocolom does have a coterie of permanent, year-round residents, but many homeowners vacate during the winter months. Subsequently, the village may feel too quiet for some. Living in a traditional town with easy access to the coast may feel like the more practical option – if you don't mind sacrificing the lovely port and Mediterranean sea right outside your door.
Advantages to buying a property in Felantix:
Good diversity of options, from modern homes and renovation projects in town to sprawling fincas on the outskirts
A large permanent population, and a bustling atmosphere in the centre
Greater affordability than many other areas in Mallorca; you get more for your money here
An easy hop to the coast, and good connections into Palma (the journey takes just under an hour)
Lower population density in East Mallorca means less traffic, fewer crowds, and fewer parking challenges
With broad, quiet roads perfect for cycling, idyllic sailing along the coast and more, it's easy to cultivate a healthy, active lifestyle
Four thousand years of history on the doorstep in the form of Castell de Santueri, as well as the dramatic everyday sight of San Salvador
Some things to bear in mind
Some consider eastern towns like Felanitx, Campos and Manacor less picture-perfect than others found elsewhere with a higher tourist population
At just short of an hour each way, commuting into Palma may be unfeasible
Limited choice of international schools: there is just one, 20 minutes away in Manacor (The American International School of Mallorca)
The beach, though very pretty, is small and packed with sunbathers in high season.
Catalan is spoken more commonly here than in Palma and the South West, presenting a potential language barrier
Felanitx price guide
2-3 BEDROOM HOUSE:
€100,000 to €2,250,000
4 BEDROOM FAMILY HOUSE:
€200,000 to €2,400,000
5+ BEDROOM PROPERTY:
€250,000 to €7 million
(Please bear in mind that prices are subject to change)
Types of Property in Felanitx
The most desirable property in Portocolom arguably is located on the first line of the sea, with views of the picturesque bay. New-build townhouses here tend to echo the pretty pastel-coloured appearance of original fishermen's cottages. Further away from the original harbour, more architectural diversity exists in the form of modern, low-rise complexes and contemporary villas.
As Mallorca's second most notable wine growing area (top prize goes to Binissalem), Felanitx is scattered with the pearls of this historic industry. You only have to drive a kilometre or two away from the resort-type homes along the coast to find old fincas full of character. Some way behind in terms of widespread renewal, there are many as yet unrenovated country estates nestled in the countryside, endowed with features such as listed towers.
Mallorca's east coast has long been popular with German buyers, typically accustomed to high building standards. Since a high proportion of new constructions and renovation projects have been initiated by Germans, it follows that design and materials are of exceptional quality.
Felanitx's wealth arose from wine and brandy production, and in the heart of the village exists proof of its noble past. Original townhouses were built with thick stone walls, grand archways, private courtyards and roof terraces – now available at a fraction of what you'd pay in Palma.
Inspiring Local Properties in Felanitx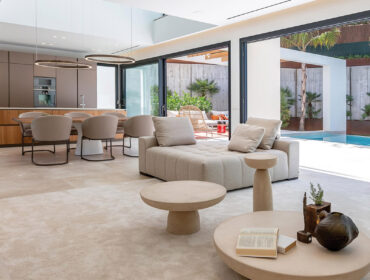 Mallorcan family-run firm Mobles Riera have expanded their designer furniture business into interior design projects, and with impressively assured results.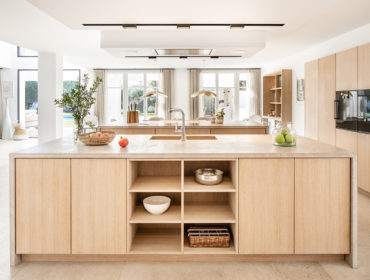 This Espacio Home Design project in Bendinat brings together an open-plan kitchen with two island units and a cosy cinema to relax in when evening comes.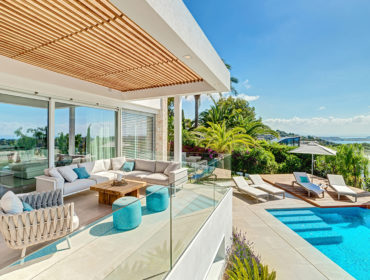 If you are planning to buy or build a family home on Mallorca then this magnificent villa maybe just the inspiration you need for a modern, practical main residence or holiday home.
What the experts say about buying property in Felanitx
"Bendinat is considered the absolute best area to live, the Knightsbridge or Manhattan of Mallorca. Well-heeled residents of beautiful traditional and modern villas with manicured gardens, bordering the Mediterranean coast in Old Bendinat love this area for its proximity to Palma and tranquil setting."
"The luxurious Hotel Bendinat dating from 1952 offers a stunning location with views for a meal or sundowner.  Nearby, within a five-minute drive, there is a much wider variety of places to eat and drink at Portals village and Puerto Portals."
"In the newer part of Bendinat, close to the Real Golf de Bendinat 18-hole golf course, luxury villas boast elevated sea views and there are also several gated communities with apartments available for a lower price range. Prices in this area for apartments range from 450,000 euros up to 3 million euros. Villas can fetch up to 30 million euros for a first sea line property."
Lucy Adamson, of hc/ Mallorca Living.
See below for more Villas for sale in Mallorca!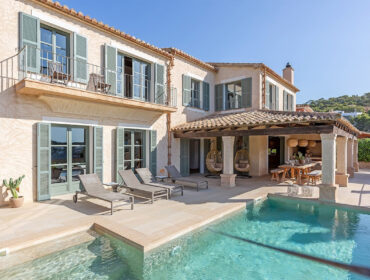 Discover the best Mediterranean villas for sale in Mallorca handpicked by Dr. Helen Cummins and team of local property experts.