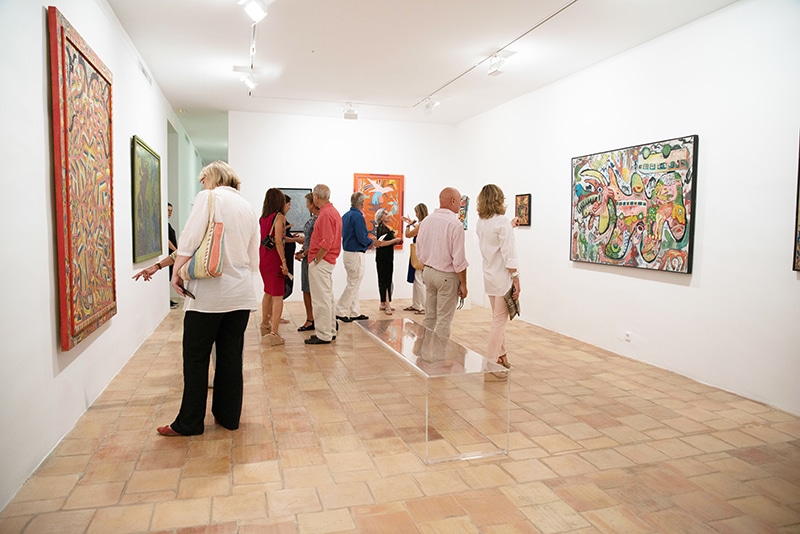 For several years, Yannick and Ben Jakober had been gathering and hand picking Moroccan art, after their residence in Marrakesh.
And now that exposition has seen the light. 'Singular Moroccan Artists' is shown at the Museo Sa Bassa Blanca until the 15th of October. The art exhibition shows 49 paintings and sculptures made by different artists, 1 Boucharouite carpet and 10 Zindkeh tapestry art work, all of them highly representative of the Moroccan culture.
The exposition was kindly sponsored by Excmo. Sr. Mohammed Fadel Ben Yaich, Ambassador of Morocco in Spain, Chaabi Bank. The consul of Marocco on the Balearic Islands, D. Mohammed Harit attended the opening, among other well-known faces, such as Cristina Macaya, Alvaro Middelman, Cecilia Sandberg, Fabrizio and Carla Plessi and Soledad Béscos.
Over 100 guests could enjoy the very interesting exposition, along with a glass of cava in the Foundation's lovely garden.
Yannick & Ben Jakober Foundation
Es Mal Pas
Alcúdia, Mallorca
Tel +34 971 549 880 (for visit enquiries)
www.fundacionjakober.com