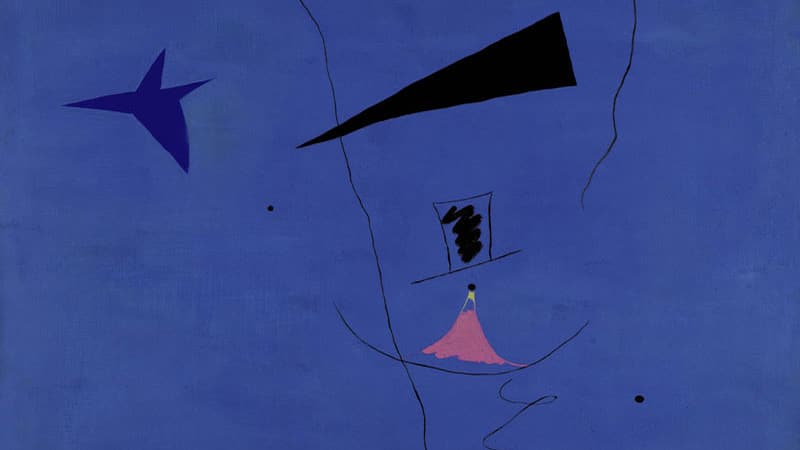 Joan Miró's painting Étoile Bleue (Blue Star) sold for a record 37 million dollars/ 29 million euros at a recent auction which took place at Sotheby's in London.
The price achieved at Sotheby's was more than three times the sum the painting was bought for by its latest owner at an auction in 2007 and smashed the Spanish artist's previous record sale at auction of £16.8 million.
The sale was made during Sotheby's first London summer season auction which featured Impressionist and modernist paintings by artists including Pissarro and Kandinsky. The auction made a reported $117.7 million in total.
Étoile Bleue is, in Miró's own opinion one of the key works of his oeuvre. The painting is part of the 'dream paintings' cycle in which the artist pioneered a new form of abstraction and was executed in 1927. Its blue colour influenced later works by the artist as well as those of other painters such as Mark Rothko and Yves Klein. Its latest owner was André Lefevre, a leading collector and connoisseur of early 20th century art, but the new record breaking buyer has remained anonymous.
Helena Newman, Chairman of Sotheby's Impressionist and Modern Art Department, Europe, said: "We are thrilled to have been able to offer Miró's Peinture (Étoile Bleue) in tonight's auction. At a time of unprecedented demand for the best examples of 20th-Century art, this masterpiece by Miró not only shattered the previous record for the artist, but also made more than three times the price it achieved five years ago."
Miró's work is currently in great demand, in part due to a major international retrospective of the artist's work entitled "Joan Miro: The Ladder of Escape" which is currently at the National Gallery of Art in Washington, having previously been at the Tate Modern in London, and the Fundación Joan Miró in Barcelona.
Miró's painting joins a list of record sales which have taken place over recent months in the art market; in May a version of "The Scream" by Edvard Munch broke all records by selling at auction for a groundbreaking 120 million dollars (95 million euros).