Members of the hc/ Connect & Grow business community joined our first open coffee morning in our lounge to kick off the easter holidays together. It was a great way to disconnect from the morning hustle and share some valuable time within the community.
They enjoyed the relaxed and almost homely atmosphere in the lounge and had time to get in contact with other members and have meaningful conversations while enjoying some tasty and homemade treats.
At hc/ Connect & Grow we are happy to offer monthly casual get-togethers for our members to create space and time for the community and to strengthen the connections between the members.
The community supports and brings together like-minded entrepreneurs who wish to network, prosper and grow on the island. Explore all the benefits of becoming a member, as well as our monthly events and activities.
If you would like to become a member of hc/ Connect & Grow, apply now.
hc/ Connect & Grow Application Form
Address details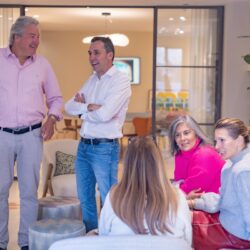 hc/ Living & Business Lounge
C/ Jardí Botànic 2