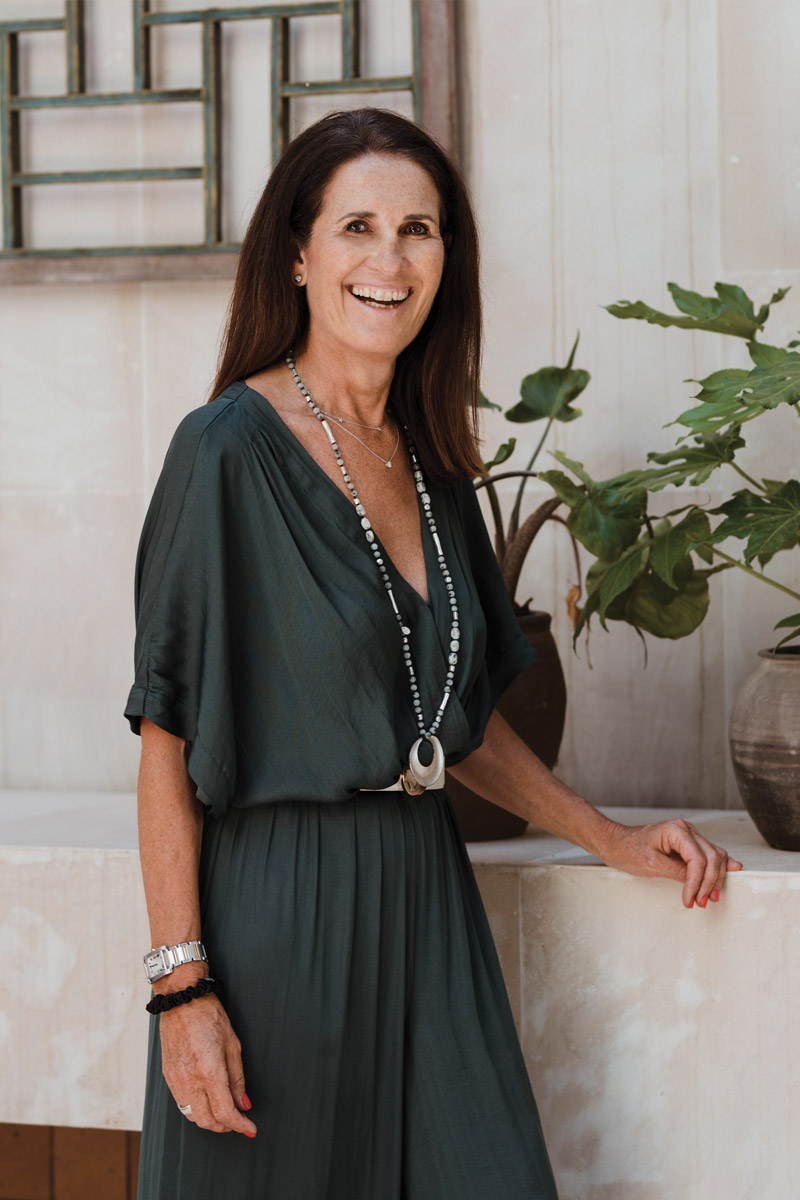 A large teak-toned door glides silently open and we enter the property where we have arranged to meet the founder of Luxury Villas Mallorca by Kay, one of the island's top holiday rental companies. The award-winning villa is a masterwork by acclaimed Palma-based architect, Osvaldo Luppi. With its smart flowing design and big luminous spaces, the Bendinat home positively radiates high-end living. It's just one of dozens of top-quality luxury villas gracing LVM's online portfolio. 
Kay greets us with an easy smile and lilting accent that immediately gives away her Scottish heritage. She came to visit Mallorca back in 1999 on a sabbatical from her job as a head hunter. Her parents had a home not far from where we've met today, in the southwest of the island. "After six months here I released I didn't want to go back to the job I was doing," Kay recalls, "so just decided to stay!"
Passion for Mallorca
Settled, she decided to set up a property management business which became rentals too. "I found my niche in the quality end of the market and built up a client base. It's all snowballed from there," Kay explains. But while some villa rental companies look to expand beyond the island, the self-confessed "bit of a control freak" is happy focusing solely on Mallorca. "Mallorca is my passion and to be able to give clients that real feeling of Mallorca, you need to know what you're talking about." This personalised approach also means she always maintains a one-to-one relationship with each client and each owner. 
Kay is certainly still keen to continue to grow her business on the island and is always on the lookout for luxury villas to expand her portfolio. "Many owners leave their second homes unoccupied for months on end when they could be making a healthy profit on their investment," Kay explains. Villas must be well-presented and maintained, with a valid holiday license, and available over the summer. In return, Kay offers a lucrative return for a property that would otherwise be standing empty. 
Key to success
An important step in her business journey was launching the Luxury Villas Mallorca brand in 2021. She called on the expertise of abcMallorca Digital Media to help. After an in-depth branding workshop, they created new branding, a marketing strategy and a website for the business. "I was thrilled with the end result," Kay beams "it was exactly what I wanted to achieve."
Another key evolution in her company is an end-to-end concierge service, with a focus on the authentic island experience. "A lot of people don't realise just what we have here," Kay explains, "and we gently encourage them to engage with the real Mallorca, and not just be on a holiday where they could be anywhere." This, combined with an approach that is both individually customised and personalised, adds depth to the holiday experience. The result: "The customer leaves happy, which always leaves me happy."