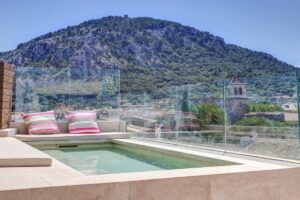 This luxury townhouse is situated in the quaint town of Pollensa in the north of Mallorca. The property is distributed across 4 floors and has a private roof terrace – one of the highest in the town.
With a total of 4 bedrooms and 4 bathrooms, this large townhouse would suit someone looking to move to permanently move Pollensa perhaps with a family. Otherwise, it would offer the perfect place to retreat to and use as a holiday home. The views from the roof terrace are magnificent – encompassing the main square and nearby Tramuntana mountains.
Unlike other properties for sale in Pollensa, this townhouse is just off the main square and is five minutes from the historic centre. Rarely rooftop views encompass such breathtaking scenery – the mountains nearby offer a dramatic backdrop.
Property Interior
The property has been recently refurbished by a well-known local construction company. Top quality materials have been prioritised.
Inside, there is a fantastic and spacious living/dining room which opens out onto a large terrace. There is also a fully-fitted kitchen with a utility room, four bedrooms and four bathrooms.
Air conditioning and underfloor heating have been fitted throughout.
Property Ref. Pollensa5294
Property Exterior
Upstairs, the townhouse has a rooftop plunge pool, ideal for cooling down in the heart of the Mediterranean sun.
A 46m2 garage large enough for 2 cars is also included.
Property Location
The property is situated in Pollensa, one of the most beautiful towns on the island. Small but perfectly formed, Pollensa is a place made for taking long leisurely strolls. Just when you think you've seen one wonder, whether that's the Convent of Santo Domingo or the Roman Bridge, another will pop up around the next corner. Move here and you'll be able to set off on some of Mallorca's best hiking and cycling routes.
The town is full of townhouses and villas with original features, while the far-reaching emerald farmland is made up of a paradise of fincas. The countryside with its narrow leafy lanes, bubbling brooks and easy access to the beach attracts those in search of a quieter life closer to nature.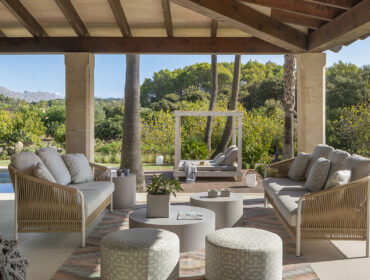 Favoured by those interested in a second home, property for sale in Pollensa attracts a high number of foreigners looking for the Mediterranean life.
Local Amenities
Pollensa is packed with local amenities. Plaza Mayor is where the town's heart beats. It's a spacious square full of terraces packed with people enjoying a drink or bite to eat whilst watching the world go by. There is an open market every Sunday which offers lots of local produce and gifts.
Unfortunately, there aren't any international schools in the town itself but Mallorca International School is just over a 10-minute drive away. The international schools in Palma including Agora Portals and Baleares International College are about an hour away. Likewise, the Rafa Nadal International School in Manacor is the same driving time, just over 50 mins.
The closest private hospital in Pollensa is in Hospital de Muro in Alcudia. Inca Hospital is the nearest public hospital.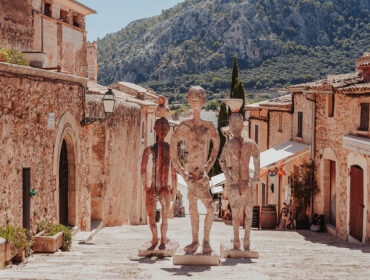 Pollensa is one of Mallorca's prettiest towns where its residents enjoy a tranquil life, hiking up Puig de Maria at weekends and taking in beautiful views.
What we love about this property
"The rooftop terrace and plunge pool with incredible views of the mountains."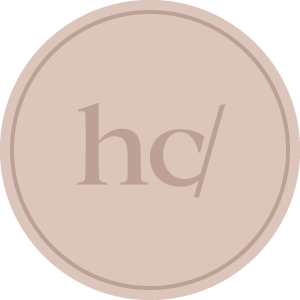 Tell me more about this property!
The real estate agency selling this property will be happy to answer any questions you may have. Simply fill in the form below and the agent will get back to you shortly.
See below for more Villas for sale in Mallorca!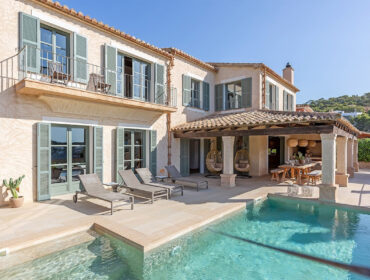 Discover the best Mediterranean villas for sale in Mallorca handpicked by Dr. Helen Cummins and team of local property experts.