Come and join us for our open morning coffee before the easter holidays! Spend some time together with other members in a relaxed atmosphere and escape the morning hustle for a while.
Our community is growing day by day and our Living & Business Lounge can't wait to welcome all of you.  This open-lounge hour is a great opportunity to come together, get to know the new space and connect with all the other members while having a good coffee or tea and some delicious pastries.
You get the chance to get in touch with Helen and the hc/ Connect & Grow team, share ideas and have meaningful conversations with the other members and strengthen the bonds within the community. We are looking forward to welcoming you to our easter get-together!
This is a members-only event.
Please reserve your place via our online booking system.
Book your place today!
We look forward to seeing you then.
Address details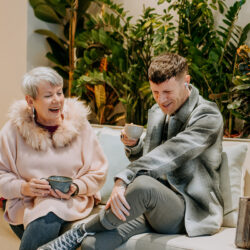 hc/ Living & Business Lounge
Carrer del Jardí Botànic 2, Palma