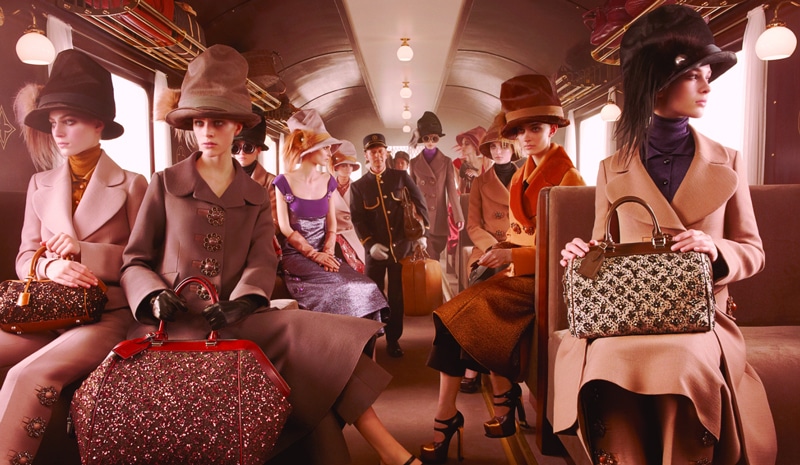 On the 7th of March 2012 in the Louvre in Paris – a steam train rolled into a makeshift station with a huge antique clock glowing over the set like a full moon shinning brightly. Disembarking from the train was a carriage full of beautifully attired models with towering hats, full length wool coats with large ornate buttons and porters laden with luggage paying homage to its roots … it was the unveiling of the new fall / winter collection by American designer Marc Jacobs for Louis Vuitton.
"Recalling a time when train travel was considered the height of luxury, the clothes exuded wealth," wrote Karen Dacre, of the London Evening Standard.
The new season advertising campaign for Autumn / Winter is the continuation of the journey that began with the carousels for Spring / Summer 2012. "Our goal was to recreate the cinematic glamour of a trip and the notion of going somewhere, meeting someone, and looking out the window … "- says Marc Jacobs, artistic director of Louis Vuitton.
The steam engine is currently on its way across two continents on its way to the east to the famous Bund in Shanghai, where it is due to arrive on July 19.
Steven Meisel photographed the advertisement campaign, which will be launched in September 2012. This is his first advertising campaign for Louis Vuitton accurately evoking the atmosphere of an exciting journey. Know-how and attention to detail, unprecedented levels have been developed to design an irresistible poetic recreation of the journey, true to the heritage of Louis Vuitton.
In the role of traveling, ten young models – accompanied by four young men – show the silhouette in an "A" of the collection, gracefully elongated, adorned with jewel buttons and opulent brocade. Continuing the theme of travel, the emblematic bags in the Monogram canvas of Louis Vuitton luggage were transported by porters, sharing the spotlight with the incredible handbags of the new season.
"All these glamorous women have an imaginary journey in their heads, which has been beautifully captured by Steven Meisel." – Marc Jacobs continues. "I can not imagine another person who was able to portray all these women and their young men inside a train and still get a light and romantic atmosphere … Despite the opulence of the clothing, there is a magic and a great delicacy in the collection, which is fully reflected in these images. "
The advertising campaign for Louis Vuitton Fall / Winter 2012 – 2013 will appear in the media around the world from September 2012.