Meet the Interior Designer Nicole Hoch from Livingdreams in Santa Maria del Camí

An 18th-century traditional townhouse and garden in the centre of Santa Maria del Camí has been transformed into a Swiss-owned lifestyle concept store. Livingdreams offers unique custom-made furniture and accessories, an interior design project service, Havana cigar lounge, wine shop, ice cream parlour, and their Restaurant 19. The store is the third for Nicole Hoch – who also have Livingdreams stores in Zurich in Switzerland.
Where are you from originally?
Zürich, Switzerland.
How long have you been living on Mallorca?
I bought my first apartment 14 years ago in Son Vida. During the first eight years I was here for holidays only but, for the last six years, I have been living in Costitx.
What do you love most about living on Mallorca?
Coming from Switzerland, I obviously like the mountains. Thanks to the Tramuntana, I don´t miss them here on Mallorca. However, the sea is certainly the most important factor for me. The variety of this island is simply incredible; when you go across the island by car, every 15 minutes you get the feeling of being in a completely different beautiful area. And last but not least the blue sky is a daily gift. In Zürich the sky is often just grey.
Where is your interior design space?
Due to the fact that we produce our products ourselves, we create them everywhere: On a desk, in the workshop, or even while travelling. Often, when you are looking for solutions with a customer, you happen to get new ideas or improvements – this is what makes it more exciting.
How would you describe your décor style?
Our style is modern, calm, natural, and minimal – the best description would be that we focus on the handicraft.
Give me a profile of your typical client
Our customers often have a good base like beautiful floors or walls but are missing something special and distinctive. It looks fine but soulless. We provide the soul of the room with our wonderful, solid wooden tables and loungers, as well as the antique panels for the façades, which seem to tell a story.
What would be your dream project?
To furnish a hotel or a restaurant in the Livingdreams style on the Balearic Islands would be fabulous.
What is your top interior design tip for readers?
If you go back to the natural values and the base of a home and a garden, one can use beautiful materials like wood, stone, copper, leather, and linen – which all have soft natural colours.. Coloured accents can be set depending on the season with accessories like cushions, carpets, etc.
Which is the most interesting project you have ever done and why?
Our biggest challenge wasn't the hotel in the Swiss mountains, but our stunning city palace in Santa Maria. However, it was a fun challenge and we were so happy to achieve the connection between the Bistro and the furniture which certainly was not easy.
Discover more top interior designers in Mallorca!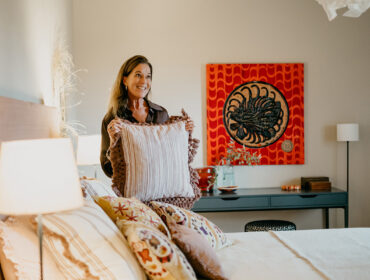 Discover the best interior designers in Mallorca who not only work with a Mediterranean palette but also interweave design ideas from international brands.
Address details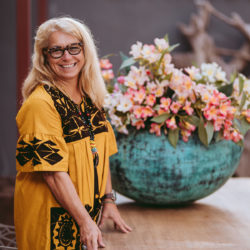 Livingdreams
Plaça Hostals 19, Santa Maria Del Camí