When it comes to planning your honeymoon you really need to do your homework to ensure it's that ultimate, once-in-a-lifetime experience, a time to spoil yourselves and unwind after all the hectic excitement of the wedding. Whether you picture turn-up-and-flop out island idyll indolence, walking hand-in-hand along sweeps of powder-white-sand beaches lapped by pristine waters amid tropical flower-scented sunsets in total seclusion, or you're adventure-seekers after activities-a-go-go, the options for a magical experience, just like your new life together, are wide open, all providing special memories to cherish for the rest of your lives.
Whatever your wishlist, choose from old-fashioned getaways, like picturesque Positano's Le Sirenuse, with sensational views from lemon tree and rose-and-frangipane-flower-filled poolside terraces complete with Champagne & Oyster Bar, to beach favourites like Fiji, boasting azure lagoons, majestic cliffs and first-class private resorts like Wakaya Club & Spa, offering some of the world's best scuba diving, and Hotel Turtle Island, location of the 'Blue Lagoon' films and a honeymooning Britney Spears. Fashionistas, meanwhile, might flock to the Gulf's fast-developing dazzling desert playground for the rich'n'famous. Renowned for its bling-blingness, cosmopolitan Dubai, with year-round sunshine and endless designer shopping, houses the world's first Armani Hotel, tipped for this year's honeymooners by the prestigious World Travel Awards.
The Top 10 Honeymoon Resorts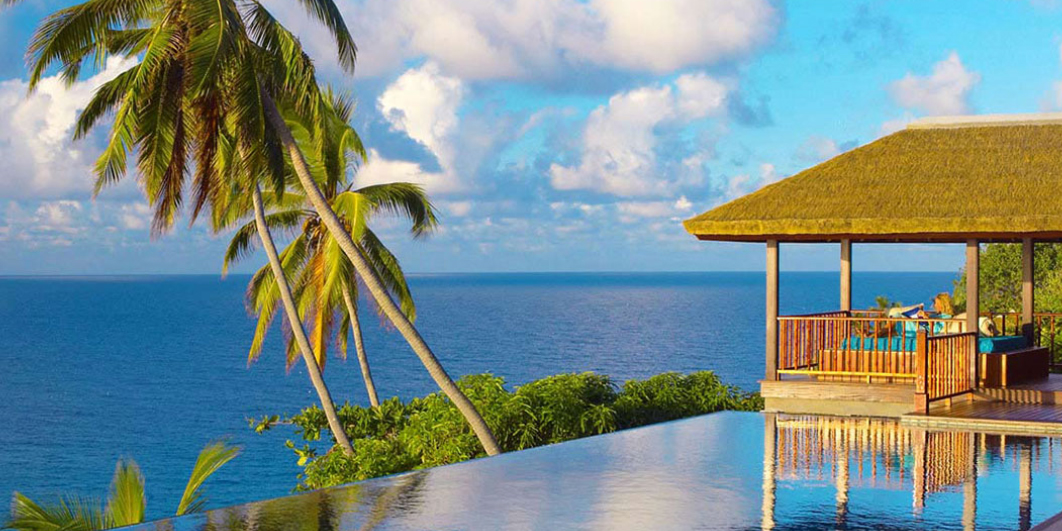 FRÉGATE ISLAND, SEYCHELLES, INDIAN OCEAN
An age-old gorgeous getaway for honeymooners, the dreamy Seychelles promise pure perfection for your first days of wedded bliss…just ask Wills & Kate! Blessed with beautiful beaches, the islands are famous for their unique flora'n'fauna and iconic, dramatic rock formations exuding mystique.
Pierce Brosnan's holidayed on ultra-exclusive Frégate Island, fringed by dream-come-true shores, lush vegetation, rare wildlife species and giant tortoises…a back-to-nature bountiful treasure trove. Perfect for serious romantics seeking 'Castaway'-style solitude, 16 traditional-style villas boast Jacuzzis and infinity pools, topped off with indigenous, 100% organic spa treatments.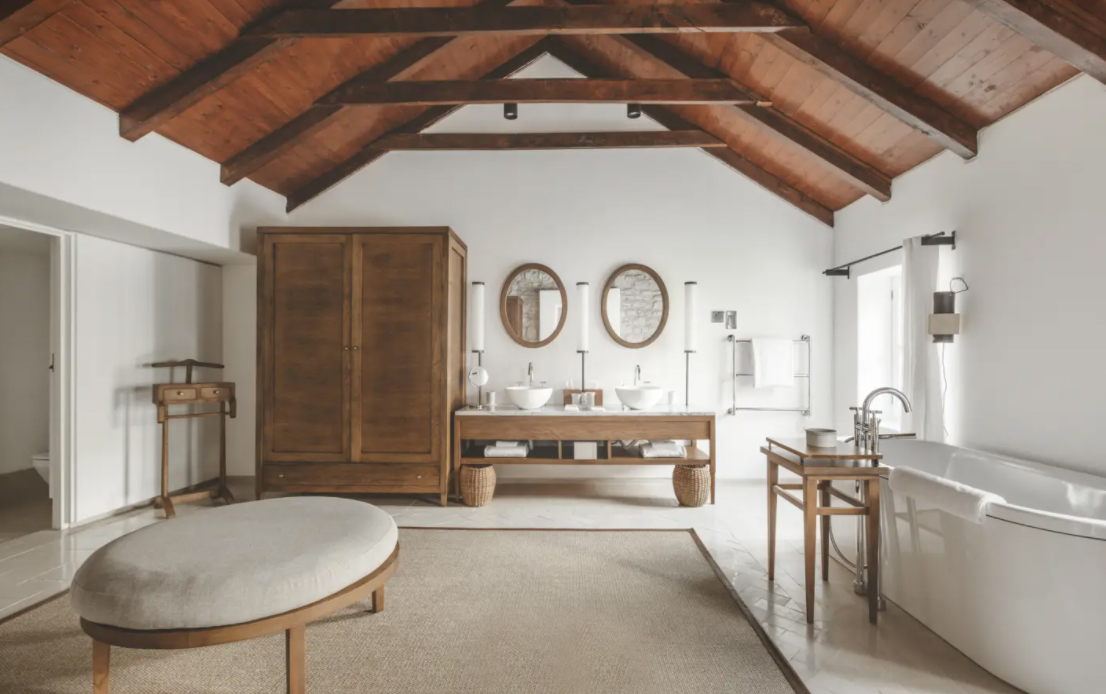 Aman Sveti Stefan, Montenegro, Southeastern Europe's Adriatic coast
Montenegro's most iconic site, 15th-century fortified village Sveti Stefan's attracted Marilyn Monroe along with today's jet-set. An idyllic islet in an uniquely-historical setting attached to the mainland by a narrow isthmus, red-tiled-roofed buildings retain the atmosphere of centuries past, meticulousy-restored interiors meeting contemporary 'wow factor' expectations.
It's part of the fairytale Aman Sveti Stefan Resort, encompassing suites, cottages and villas (including Queen Marija Karadordevic's former summer residence), pink-sand beaches, olive and ancient pine trees dotted along Montenegro's most renowned stretch of coastline. Must-see-to-believe views and cliffside swimming pool complement activities for adventurous couples, including watersports, cycling to UNESCO World Heritage sites, fishing and skiing.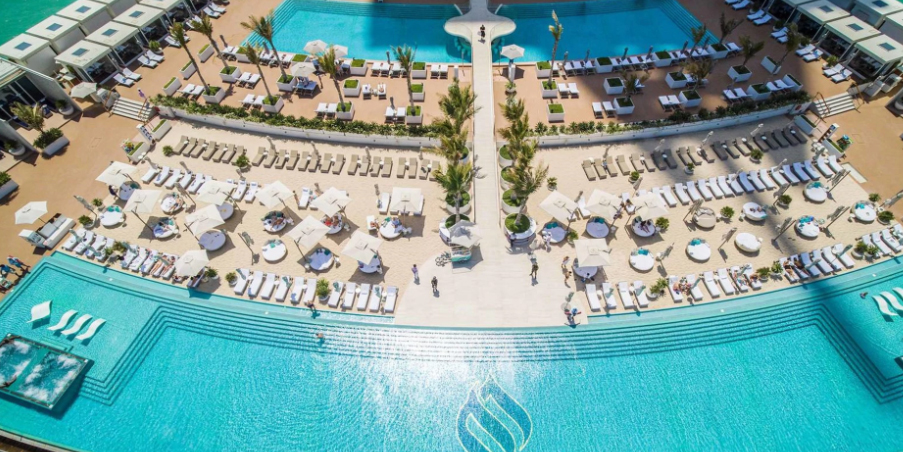 Burj Al Arab, Jumeirah Hotels & Resorts, Dubai (UAE)
Set on its own island dominating Dubai's skyline, the city's icon, Burj Al Arab, bursts with movers'n'shakers, Hollywood heavyweights, royals, models'n'moguls. Referred to as the world's only 7-star hotel, it's consistently voted the most luxurious. Famed for extravagance and going the extra mile for guests, this opulent, out-of-this-world, multi-award-winning resort boasts staff-to-suite ratios of 8:1 and chauffeur-driven Rolls-Royces.
Adorned with 24-carat gold leaf, floor-to-ceiling-windowed superior-standard duplexes offer jaw-dropping Gulf views to cuddle up to. Add La Prairie/ESPA treatments, suspended sky-view restaurant/bar for sensational sunset-watching over Palm Jumeirah and The World islands and simulated submarine ride to a subterranean seafood restaurant for 24-carat decadence.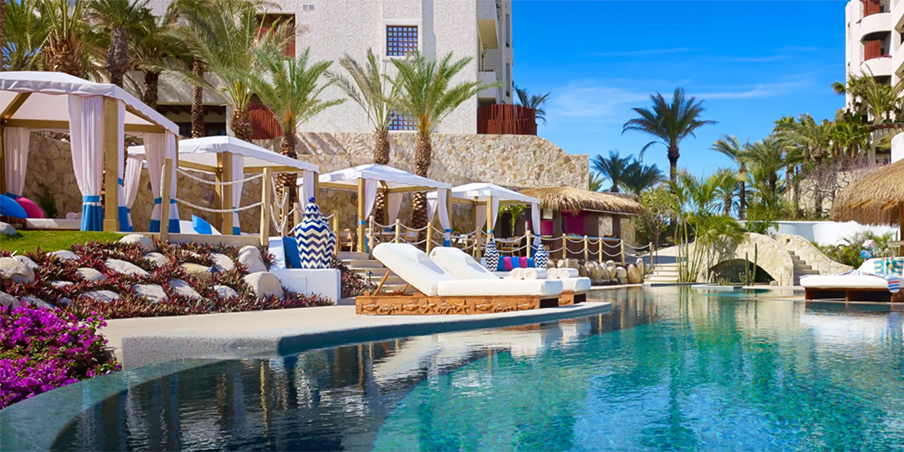 Las Ventanas al Paraíso, Rosewood Resorts, Los Cabos, Mexico
Upmarket Los Cabos enjoys 350 days' sunshine, stark desert landscapes, mountains and underwater wonderlands. Enchanting Las Ventanas al Paraíso, literally, as the name implies, 'windows to Paradise', is a secret desert-beach hideaway for the crème-de-la-crème lured by the private-jet-load, including Jennifer Lopez, with service so discreet there are underground tunnels for staff.
The 'Department of Romance' creates memories to last a lifetime…Mexican Trio serenades, sunset champagne cruises, jeep/Hummer desert excursions, romantic 'messages in a bottle' delivered to the beach, one-on-one cooking classes for newly-married men…this resort  exceeds your highest honeymoon expectations.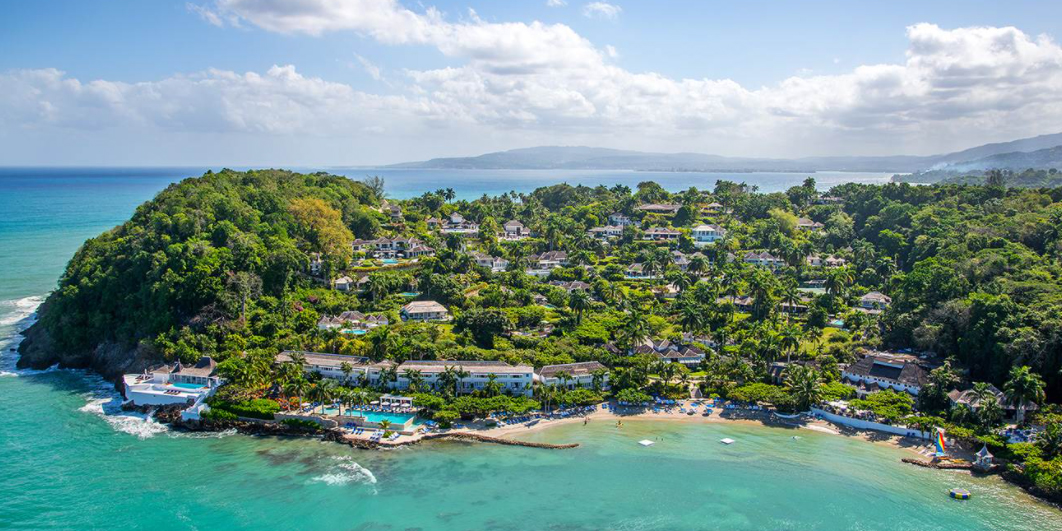 Round Hill Hotel & Villas, Montego Bay, Jamaica
"Jamaica's more beautiful than any woman I've ever known," Errol Flynn once declared. The birthplace of Reggae'n'rum, this charming Caribbean island beams with magnificent beaches, hidden waterfalls, rainforests and mountains….Cool Jamaica excels at chilling you out.
Built for romance, sophisticated…subdued…sublime are synonymous with legendary Round Hill. Escape to timeless elegance and understated glamour at this ultra-chic boutique resort, offering world-class amenities amidst a tropical backdrop. A fave for the discerning elite, the guestlist reads like a Who's Who of 20th-century society. Rodgers and Hammerstein wrote 'The Sound of Music' and the Kennedys honeymooned here. Smooch in your private pool surrounded by flowers or set sail on a catamaran cruise.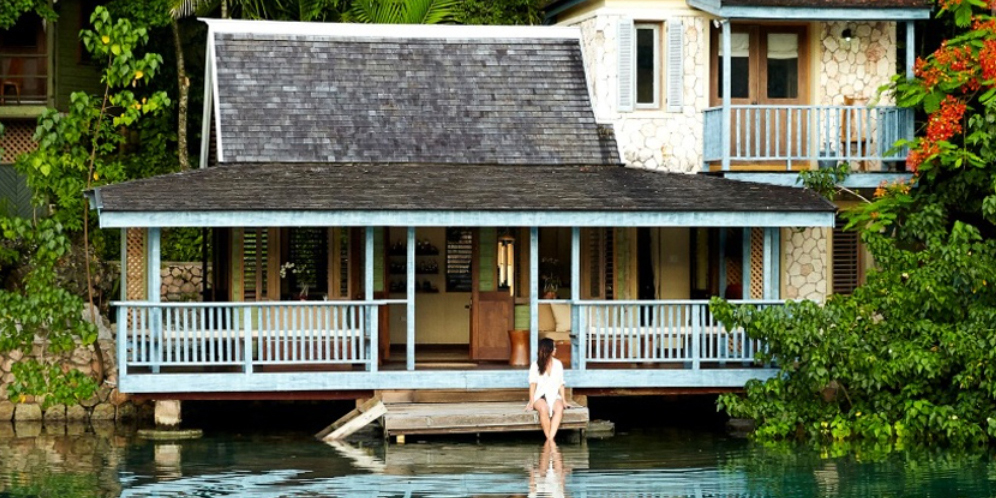 GoldenEye Hotel & Resort, Oracabessa, Jamaica
Originally built by Ian Fleming, tropical getaway GoldenEye's named after one of his World War II covert operations. Shaken, but not stirred, he created everyone's favourite secret agent and wrote his '007' novels here.

The recently-renovated jungle oasis is a Bond-tastic, understated resort, steeped in post-war history and intrigue, comprising luxurious villas, bright'n'airy beach/lagoon cottages and sexy'n'secluded stylish suites with outdoor showers/garden bathtubs boasting sea views. Popular with Hollywood/British film stars, literary greats, artists, aristocrats and premiers, the glitterati guestlist goes on-and-on….Fleming's friend Noel Coward, Elizabeth Taylor… Honeymoon packages include sunset massages and glass-bottom-boat private snorkelling.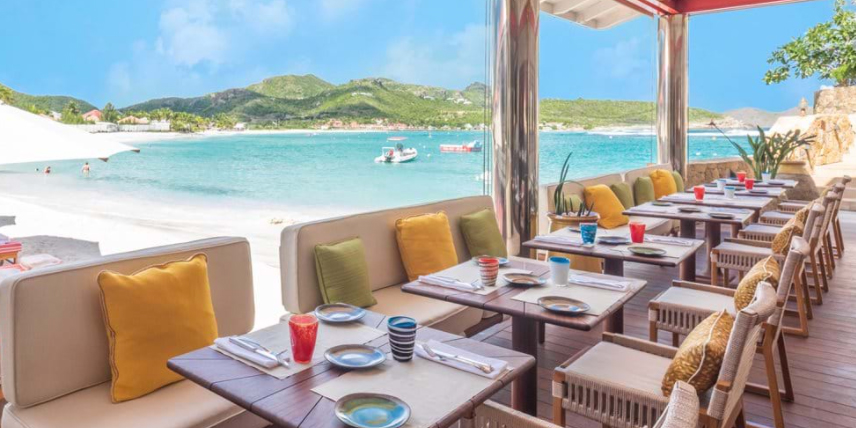 Eden Rock Hotel, Saint Barthélemy, French West Indies (A member of Relais & Châteaux)
Year-round balmy temperatures, silky-white-sand beaches, designer boutiques…for unrivalled Caribbean chic, trendy St. Barth's is the place to be seen (Jay-Z and Beyoncé are regulars).
Once the secret hideaway of Greta Garbo, celebrity-studded Eden Rock continues to ooze star-quality allure. Ocean views at every turn, luxuriant spa treatments on tap, it's perfectly-positioned on a rocky promontory surrounded by its coral reef's colourful undersea world. An intimate enclave of highly-individual cottages, suites, beach houses and ultra-deluxe 6* villas, this stylish spot's Villa Rockstar, described as 'a hundred-million-dollar yacht on land', boasts a whiskey bar, garageful of cars and state-of-the-art recording studio. 'Seventh heaven' for hip honeymooners.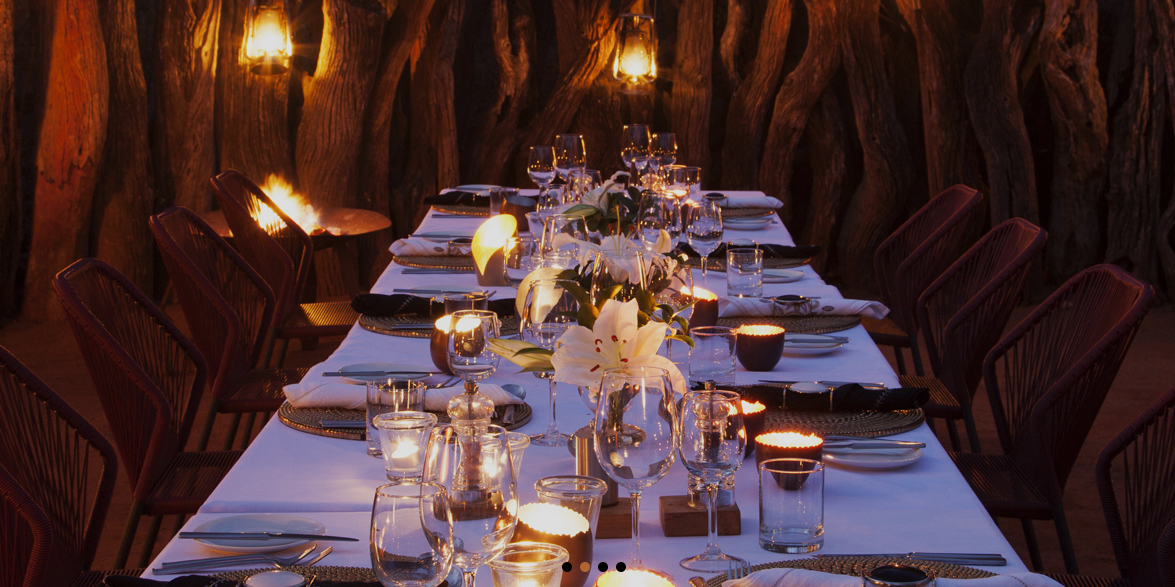 Molori Safari Lodge, Madikwe Game Reserve, South Africa
Lions, rhinos and…hot tubs! For laid-back splendour in the savannah, this is as good as boutique safari gets. Ultra-exclusive Molori's set a new standard for bush lodges, combining contemporary creature comforts with African-inspired décor and high-design (think Philippe Starck–designed bathtubs) complete with helipad for private air charters.
Meaning 'to dream' in Setswana, Molori's dedicated to delivering superlative service and attention to detail with consummate ease. The place for discerning 'Big Five' fans after up-close-and-personal game drives/bush-tracking tours, individually-designed suites feature floor-to-ceiling retractable glass, game-viewing sundecks replete with infinity pool and telescopes…superior-glamping beyond your wildest dreams!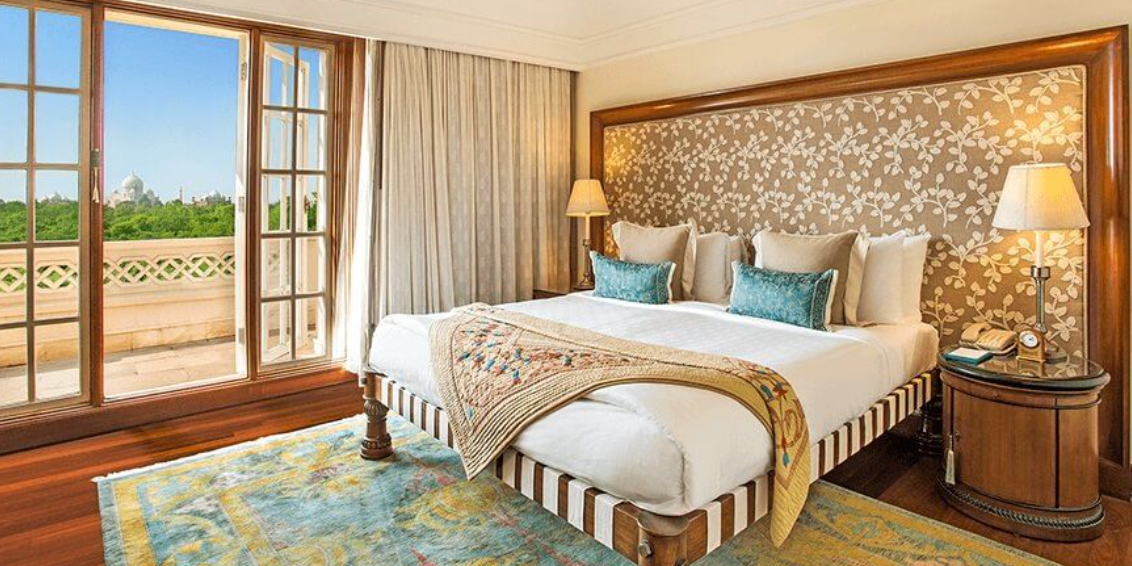 The Oberoi Amarvilas, Agra, India
Overlooking the Taj Mahal, shimmering by day, ethereal by night, you'll be swept away by romance from your private balcony at Oberoi Amarvilas.
Unashamedly romantic, sheer luxury reigns supreme, Moorish-Mughal architecture reminiscent of Emperors and Princes. Oozing grandeur fit for a temple, lavish displays of fountains, reflection pools and plush pavilions grace impeccably-manicured lawns, while flower-filled guestrooms, cellar overflowing with vintage champagne, limousine/personalised butler service and couples' spa treatments set hearts racing. Swim in crystal-clear pool waters, dine on fine international or traditional Indian cuisine, ahead of starlit midnight tours of the monument of love.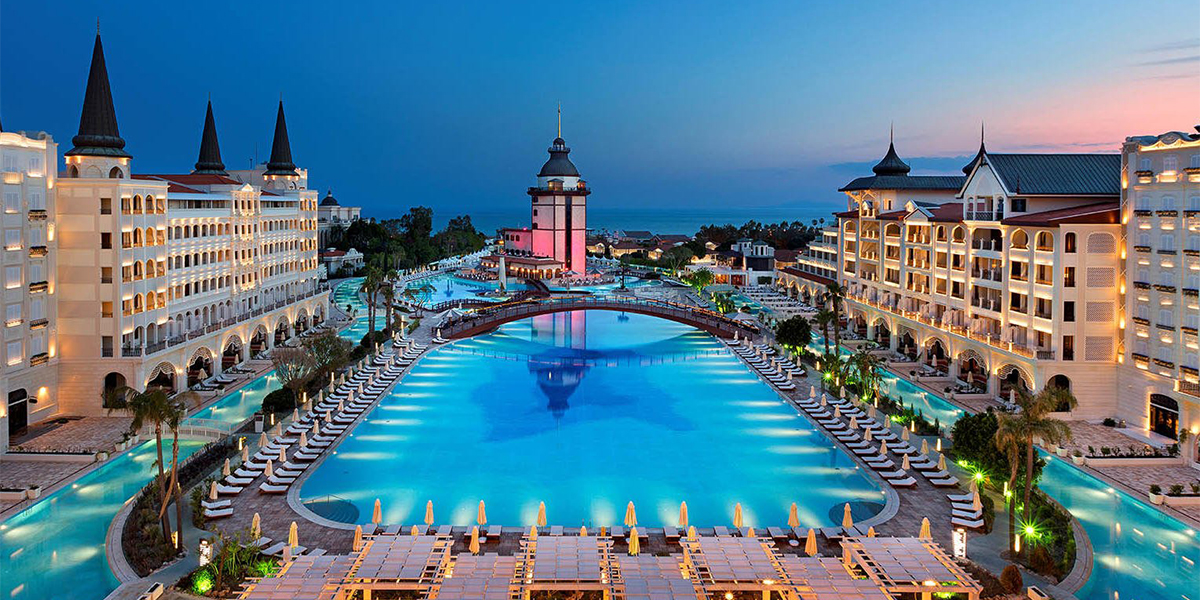 Mardan Palace, Antalya, Turkey
Follow in Mariah Carey's footsteps at Mardan Palace, Europe's most expensive resort by far, recently opened as an opulent pleasure palace…with no expense spared. Set amongst over-the-top themed hotels, (sightsee the 'Kremlin', 'Topkapi Palace' and gondola ride in 'Venice'), this £1bn gold-plated destination with the Midas touch reeks of ostentatious splendour…Shangri-La style.
Internationally-acclaimed chefs serve smorgasbords of world cuisine, the underwater fish restaurant's huge aquariums reflecting different oceans. An exquisite wine cellar and plethora of bars (vitamin and Champagne included) impress the most critical connoisseur. Indulge in champagne baths, tee off, explore the hotel's zoo or reef, charter yachts or watch lightshows in the amphitheatre…cloud nine escapism in this true Turkish delight!
Final word
So whether you're after first-class sun'n'sea'n'sand in your own romantic bubble or want to feel like the King and Queen of the jungle, these cream-of-the-crop getaways provide the perfect paradise to celebrate your love and embark on your new journey of marital bliss. Live the picture-perfect dream on the most memorable holiday of your life. Happy honeymoon!