Avid film-lovers are well-accustomed to dreaming about their own private cinema. From how big it is, how comfortable the sofas are and what type of sound system is installed, every detail is accounted for. The same thought process in fact, that residents of this villa in Port Andratx went through in designing their dream cinema with Espacio Home Design.
Fitted with only the latest, and most advanced technology in home cinema, Espacio Home Design have kept things stylish throughout. The Surround Dolby Atmos 19.2.4 promises viewers an immersive experience, accompanied by subwoofers from the Diamond Range by Bowers & Wilkins. Resound Shape speakers have been installed on the surrounding walls, with speakers from Bang & Olufsen fixed to the ceiling. And controlling all this technology? Made simple by the Scena Cinema Touch system, where users can modify the lighting and mood with ease.
For this project, Espacio Home Design have gone further and made space for entertainment at the back, where a pool table has been added. There are no limits to what can be achieved when you're in the trusted hands of a good design team.
Address details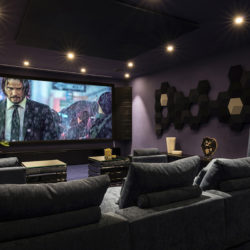 Espacio Home Design
Calle Esusebio Estada, 11b, Palma