Members of the hc/ Connect & Grow business community joined a Field Trip to Scena Bang & Olufsen, to explore their interactive Scena Experience Centre showroom in Palma.
They enjoyed learning about Scena's unique sound and lighting designs, their impressive home cinema experiences and getting to meet the fantastic team from Scena. Members also had some time to chat and build new connections while enjoying some tasty snacks and drinks.
At hc/ Connect & Grow we strive to support local businesses and we're very happy to give members the chance to present their great work and share their businesses with other members.
The community supports and brings together like-minded entrepreneurs who wish to network, prosper and grow on the island. Explore all the benefits of becoming a member, as well as our monthly events and activities.
If you would like to become a member of hc/ Connect & Grow, apply now.
hc/ Connect & Grow Application Form
Address details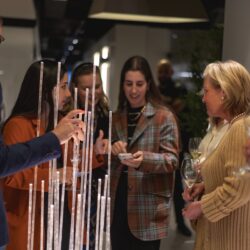 hc/ Living & Business Lounge
C/ Jardí Botànic 2