A group of local entrepreneurs interested in getting to know our hc/ Connect & Grow conscious business community firsthand, joined our first Community Presentation in July. Attendees got the chance to find out more about the membership and all the benefits it can bring to their life and business.
During this get-together, Dr. Helen Cummins presented the concept and values of the community, the events, and learning activities as well as the membership options. The participants were able to ask questions and have an individual chat afterward with Helen or some of the members of the community.
hc/ Connect & Grow was established to bring together like-minded entrepreneurs, who are based in Mallorca or want to establish their business here. Our mission is to see members grow to their full potential and we love creating networking and learning experiences so members can expand their business.
If you would like to become a member, apply now.
Address details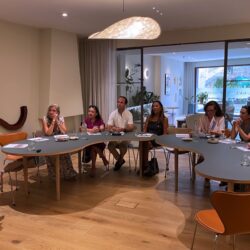 hc/ Living & Business Lounge
Carrer del Jardí Botànic 2, Palma