This month's visit to a local business takes us to Tony Mora's cowboy boots factory in Alaró. With more than 100 years of experience, Tony Mora has been defined as the authentic master in the manufacture of handmade boots in Mallorca, while they continue their expansion throughout Spain, Europe and the rest of the world.
Visit their factory and learn how a team of 18 produces 150 custom pairs a month and 8000 in stock a year. You will also discover their traditional method of bootmaking with more than 100 handcrafted steps and witness some of the machinery that has been in use for over 80 years!
The tour will be completed with some snacks and beverages.
When: 23.02.23 (Thursday)

Meeting Time: 11:15h  / Start Time: 11:30h
Cost: Members 20 euros plus IVA
Please reserve your place via our online booking system.
Book your place today!
We look forward to seeing you then.
Address details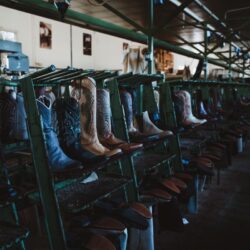 hc/ Living & Business Lounge
C/ Jardí Botànic 2