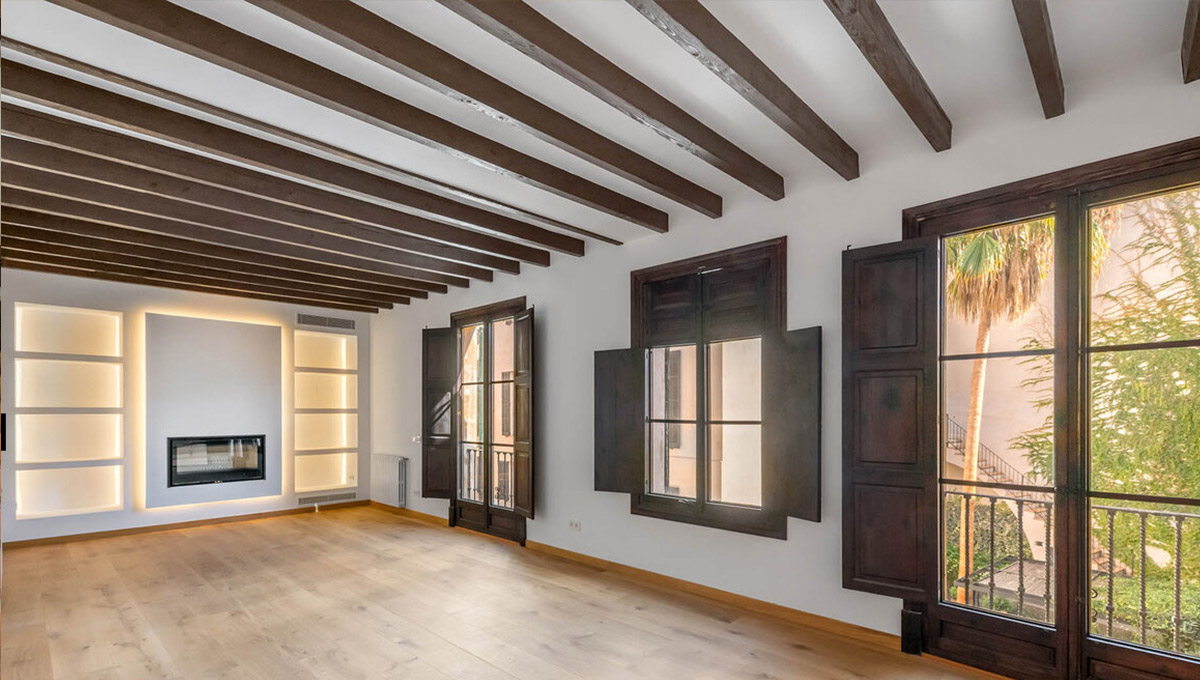 This 4-bedroom apartment is situated in the Old Town of Palma de Mallorca. It is where the city's most beautiful buildings are found and this property is certainly one of them. Surrounded by small cobbled streets and squares, this 4-bedroom duplex apartment is characteristic of Mallorca's historical past.
Unlike other properties for sale in Palma de Mallorca, this apartment comes with 2 parking spaces and is graced with plenty of natural sunlight. Sometimes in the centre of the city, sunlight will not often reach the narrow streets. In this case however, the apartment is bright and sunny.
Given the incredible historical value, this property would suit a buyer looking for a taste of gracious Mediterranean living, while doing so, just minutes from the bustling centre of the city. This is a property of true elegance, perfect for a family looking to live in one of Spain's most beautiful cities.
Property Interior
This apartment offers 4 bedrooms (each with their own en-suite). There is a large living area and separate dining room as well as a private terrace. Exposed beams and wooden floors are featured throughout. There is also a fireplace to use in the winter months.
Double glazed windows, air conditioning and gas central heated has been fitted.
Property Ref. DC-PMI-1399
Property Exterior
Outside, the property has its own private terrace. It also comes with 2 parking spaces.
Property Location
The property is situated in Palma de Mallorca, the capital city of Mallorca. The city is revered in Spain for being one of the prettiest cities in the country owed to its Cathedral, beautiful Old Town and proximity to the Mediterranean Sea. Palma is a hot-spot for international business and is welcoming of people from all over the world who want to start a new project or start-up.
Those who move to Palma normally do so for its beautiful architecture, international community and vibrant cultural scene. It boasts the highest concentration of restaurants, cafés and art galleries in Mallorca which remain open, no matter the season. While many other places in Mallorca are affected by fluctuations in tourism, Palma is open all year-round.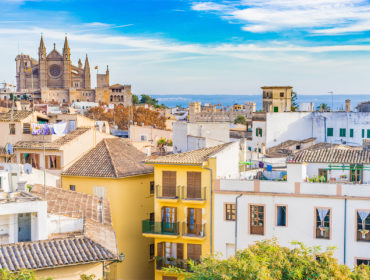 Own keys to an apartment in central Palma and you're looking at real estate gold. Now is the time to find your dream property in the capital city of Mallorca.
Local Amenities
Palma de Mallorca has everything you could possibly need for living in Mallorca. It has some of the biggest supermarkets on the island, as well as plenty of restaurants, cafés, bars and pubs to choose from. Thanks to its strong international community, there is no limit to what you'll find in Palma, with lots of shops selling produce from abroad. There is also a number of health centres in the city with two of Mallorca's biggest hospitals (Clínica Rotger and Son Espases) very close-by.
International schools such as Bellver College, Palma College and Agora Portals can be reached within 5-10 minutes by car.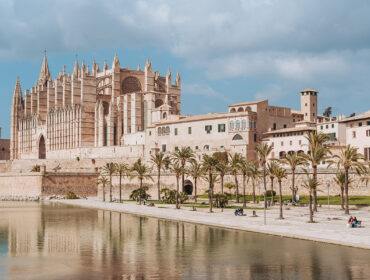 Palma de Mallorca is a city full of surprises. Move to Mallorca's capital and discover the very best of what the island has to offer.
What we love about this property
"Its lovely old beams and historical architecture."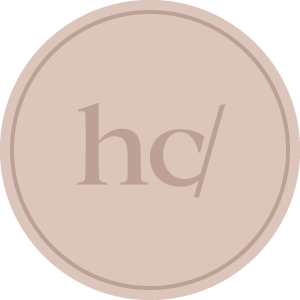 Tell me more about this property!
The real estate agency selling this property will be happy to answer any questions you may have. Simply fill in the form below and the agent will get back to you shortly.