When family histories are retold, there is often one key moment that defines much of what comes after: a twist of fate, a chance meeting, or – in the case of the Torrens clan – a bold decision that changes the whole course of the family story.
Anyone familiar with design company Espacio Home Design will know of its numerous stylish showrooms, brimming with the latest state-of-the-art technologies, hottest home design trends, and top quality international brands. But few will know it all started in a modest carpentry shop in the small village of Vilafranca in the sleepy centre of Mallorca.
"It all began with my grandfather and grandmother," begins Alberto, who with his brother Llorens runs the business, and a carpentry business that would "just supply the people of the village with tables and chairs". Alberto's father joined the family business as a teenager, but had a vision for its future: to specialise in kitchens. So in his early 20s, Juan Torrens spent his savings on a flight to Germany – an expensive trip in the early 1970s – to absorb everything he could about kitchens there.
A couple more years of saving, and he had enough to open a small kitchen store on the edge of Palma. And this soon funded the opening of Cocinart, the first and still flagship showroom of the Espacio group. The rest, as they say, is history.
While Juan was first driven by a vision to specialise in kitchens, with the success of Cocinart, opportunities arose to diversify. And now, over forty years later, Espacio is the multifaceted brand comprising seven showrooms dotted around the Mallorcan capital. And each brand is carefully chosen, they visit the factory, talk to technicians, scrutinise the smallest details, and take their time before deciding whether to add them to the Espacio portfolio.
It comes down to reputation. "Our clients trust the brands we choose because they trust us," Alberto explains. And because so many of their customers are international clients, expectations are high and certain standards need to be met. The continuing growth at the luxury end of the market, with multi-million euro villas springing up all over the island, is also creating a demand for high-end installations such as home cinema, for which Espacio has become market leaders on Mallorca. "People didn't even consider it an option before," Alberto says, "but that's all changing".
And a lot has changed through the decades, but the Vilafranca carpentry workshop is still going strong, still employing around a dozen workers. And Alberto is proud that the family business ethos continues: "we are not bosses and employees, we are just a team. It's our job that everyone is happy to work for us. That is something we don't want to ever change."
At the age of 72, Alberto describes his father as "semi-retired". Without fail, every morning at 8am he turns up at their main warehouse, helping to oversee the daily deliveries, relishing the buzz of industry. "My father, my uncle, like me, and like my brother, we are technicians, not managers," Alberto explains, "this is the real business for us, its what we love, the engineering, the solving problems."
And as an engineer, Alberto believes in the importance of doing things methodically, taking things "step by step". He understands that a good reputation can only be built over time, and trust is something that has to be earned through long-term relationships. Innovation and technology should be embraced, but at Espacio it is about knowing it inside out before putting their name behind it. And this way, their reputation – nurtured over almost half a century – can continue to grow, and with it the Torrens family story, and their remarkable Espacio Home Design business, will continue to thrive into the future.
Address details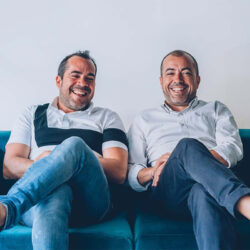 Espacio Home Design Group
Cocinart · C/ Eusebio Estada 11, Palma