Any childhood memory for Dolores Luque is associated with fashion, although the germ of that passion was, as in many other cases, cut-out dolls. Born in 1980 on the island of Formentera, she was raised along with her twin sister in an atmosphere of absolute freedom and contact with nature – surrounded by pure beauty, a turquoise sea that blends into the sky and will always be with her, salt and sunshine. One day, reading her favourite blog at elle.es (La Divina, whose last post was published in October 2008) she decided that she too could be a blogger. And so Formentera Aguamarina was born.
A Bachelor in Business Administration, and currently working in a bank, Dolores devotes almost all her free time to blogging, with two or three posts published each week. One of the first to be published was about the house that the Marni family has on Formentera and that was the beginning of the fusion of fashion, interior design, and the island, that has been the essence of most of her posts.
"Addicted to fashion, interior design and the island where I was born and raised, Formentera"
Regularly at meetings and events for bloggers and fashion experts – such as the presentation of the Telva magazine iPad app, and the Nivea packaging bearing the slogan "My happy island and your happy cream" – Dolores is unable to predict if the overall success of bloggers has reached the tip of the iceberg. She understands that she has to redefine her strategy daily without losing her own style, as the unlimited power of social networks and huge volume of information online engulf the surprise factor. So, one of its hallmarks – the trends board – appears from start to finish on Pinterest and is shared every day on Facebook or Twitter. Renew or die?
I ask Dolores Luque to share her island, Formentera, with us; her very secret places. At the end of the day, Mallorca and Formentera are a stone's throw apart and any excuse will do to travel between the two islands. We talk about Can Carlos, the exquisite perfumery in Sant Francesc and their wonderful essences of fig and juniper; Full Moon and Vintage Formentera, for the trendiest baskets, sarongs and sandals. Pizzeria Macondo in Sant Ferran never disappoints and, if what we want is an authentic homage, the best choice will certainly be Chez Gerdi, the superb restaurant situated in Es Pujols and directed by Gianluca Casali. It's a reference on the island, with its radio broadcasts from a restored Fiat 850. Quintessential Formentera.
And if we can afford some luxury, a stay at Es Ram Resort will certainly make us feel as if we're in paradise, enjoying one of their suites with ad hoc names like Brezo, Mata or Chumbera. But among all these magnificent places, Dolores admits she chooses her "place in the world" as the beach of Es Migjorn.
As Dolores has spent nearly half her life living in Mallorca, we cannot pass up the opportunity to share her 'musts'.
In Palma we can shop well in Renew (where we will find the designs of Argot & Margot, Sister Jane, or A bicyclette) or Bossa. But Dolores also loves the Uterqüe clothing collection; fair enough to say it has an impeccable patronage.
The Hotel Hospes Maricel terrace is essential. A breathtaking view, while enjoying their famous "Best Breakfast in the World", a superb gastronomic experience consisting of five stages, which are absolutely impossible to forget. For an overnight stay, she recommends without hesitation Hotel Son Jaumell, an ancient 17th century 'possessió' with stunning views of the medieval castle of Capdepera.
If she was to choose her place in Mallorca, it would be Deià without any doubt, the small village on the north coast between Valldemossa and Sóller, with a hippie flavour that's reminiscent of Formentera. Eating in Sa Fonda you'll find tourists, children, maybe a dog dozing under a table. And as the most likely thing about Mallorca is that the weather will be great, two visits are required: Cala Deià, and Es Caragol beach in Santanyí, another charming village, with great cafes and a superior market.
"In banking by choice and blogger for devotion. My dream? Never stop dreaming."
We end up talking about what was the turning point for Formentera: Lucia y el sexo, Julio Medem's film shot on the island in 2001, starring Paz Vega and Najwa Nimri, which opened the eyes of thousands of moviegoers, who felt the need to visit this paradise.
The turning point in the world of blogs is impossible to define, and it's impossible to predict where it is heading. To find out, we'll have to continue reading daily posts by Dolores Luque in Formentera Aguamarina.
Address details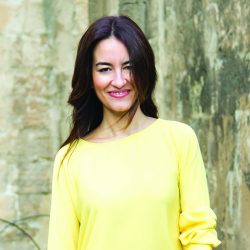 Dolores Luque - Formenteraguamarina