This 6-bedroom, modern country house in Santa Maria is a unique property that comes with its own private land. The views from this property are beautiful and epitomise the rural beauty that exists in this part of Mallorca. The property is currently under construction, using the best possible materials.
Like other properties for sale in Santa Maria, this country home comes with plenty of outdoor space. This might be used to plant a vineyard or own some livestock.
The property would suit someone looking for a country getaway in Mallorca, either as a second home to relax in or as a permanent family residence. The villa suits tranquil living thanks to its open plan layout and spacious terrace area. There are plenty of spots to soak up the Mediterranean sunshine and chill-out with a glass of wine in hand, watching the sun set over the nearby mountain range.
Property Interior
Inside, this property is being decorated using classic stone flooring with light walls. Beautiful original beams also feature throughout. Traditional Mallorcan stone will also be used in many of the rooms, including the open plan living area.
The property is distributed over 2 floors and there are 6 bedrooms total. There are 5 en suite bathrooms and a guest toilet. The living room, dining room and kitchen are all designed together into one open, expansive space, with bright wood and natural stone.
Underfloor heating and air conditioning is being fitted throughout.
Property Ref. 3536
Modern country house with land in Santa Maria
Modern country house with land in Santa Maria
Modern country house with land in Santa Maria
Modern country house with land in Santa Maria
Modern country house with land in Santa Maria
Property Exterior
Outside, the property has a 14×4 swimming pool with fabulous country views. There is a garden and terrace area – ideal for alfresco dining. The property benefits from lots of sunshine and there are plenty of spots to sunbathe or read.
Parking for 2 cars is also included, which is located in the basement of the property.
Property Location
The property is situated in the beautiful village of Santa Maria del Cami, which is at the foot of the majestic Serra de Tramuntana mountain range. It is part of the island's largest wine-growing region and is especially attractive to those drawn to Mallorca's hiking and cycling scene.
Santa Maria is the ideal place to settle if you want to immerse yourself in the quiet countryside living but still have conveniences of Palma within easy reach.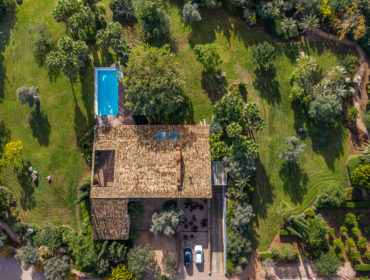 Santa Maria's location at the foot of the Serra de Tramuntana allows its residents to benefit from stunning scenery and an abundance of hiking routes.
Local Amenities
Within Santa Maria itself there are plenty of cafés, restaurants and supermarkets. On Sundays there is a fantastic local food market in Plaza Nova, which supplies the village with fresh fruits, vegetables and local products. There is also a surprising number of home interiors and furniture stores on offer.
However, if you would like access to a larger variety of services, then a 20-minute car journey to Palma is recommended. International schools including Montessori Mallorca, The Academy and Escola Global are a short 10/15-minute drive away.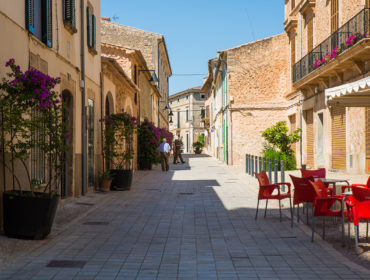 Your guide to Santa Maria in Mallorca. We cover all the highlights of living in this small town giving you insider tips from a locals perspective.
What we love about this property
"Its two swimming pools and beautiful Mallorcan stone walls."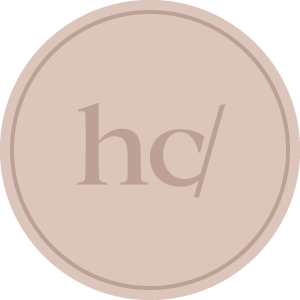 Tell me more about this property!
The real estate agency selling this property will be happy to answer any questions you may have. Simply fill in the form below and the agent will get back to you shortly.
See below for more Fincas for sale in Mallorca!
Discover the fincas for sale in Mallorca that guarantee slow Mediterranean living – handpicked by Dr. Helen Cummins and the hc/ Mallorca Living team.