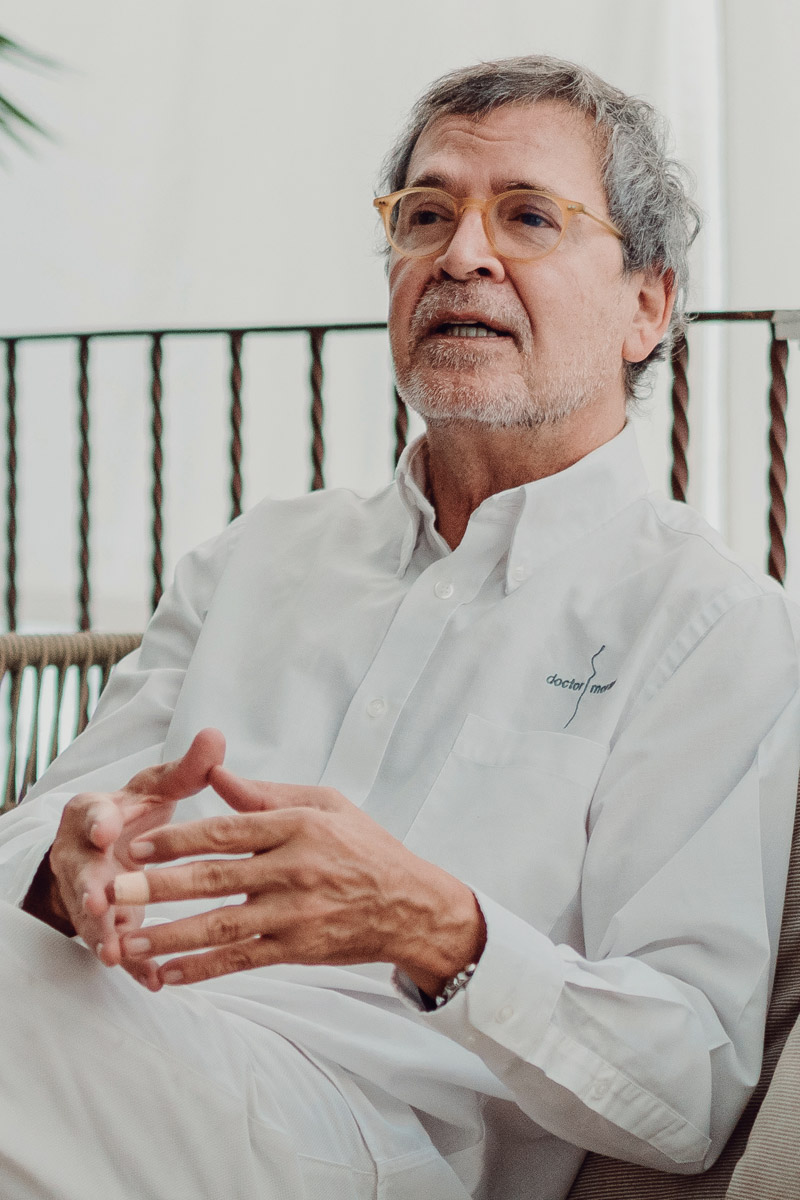 Dr Morano has just returned from a weekend of conferences in Geneva. Innovation in the world of aesthetic medicine is constant and he's not one to lag behind. His interest in the health and well-being sector sparked during his time as a general health practitioner. Issues of obesity, diabetes and sleep apnoea were all conditions he found to be treatable with the adoption of a healthier lifestyle. Since then, his patients' needs have motivated his continued investigation into the latest techniques and technologies in the world of health and beauty.
Innovative Technology
Cellulite, flaccid skin, varicose veins and skin blemishes are some of the reasons clients seek out Clínica Morano. Their offer of corporal and facial treatments sounds almost limitless. Dr Morano reels off a list of acids used in peelings, "Glycolic, ferulic, salicylic…" he says, and adds that there's nothing new about using acid to rejuvenate the skin. Cleopatra was said to bathe in donkey milk and it was the effect of lactic acid removing a layer of old skin that would have given her that famously radiant complexion. 
In the trendy heart of Palma, in a beautiful old building, things have moved on quite a bit from donkey milk. The immaculate treatment rooms are equipped with cutting-edge machinery. Radiofrequency, ultrasound, lipolaser and the revolutionary magnetotherapy perform a multitude of miracles, such as shrinking fat cells and remodelling connective tissue to remove cellulite or difficult-to-budge adipose tissue. These innovative treatments reduce the need for long recovery times and the results are superior to past, invasive surgeries.
A human touch
It's not just the methodologies and products which have changed, so too has the philosophy among professionals within the field. "We want to move away from exaggerations, to move away from what doesn't look natural," Dr Morano says. "We want to perform feasible, easy and recognisable treatments which are credible to the rest of society."
While treatments are continually modernising there is one thing that doesn't change, and that's the human touch. "An appointment here isn't just about looking at the patient but about listening to them. By listening we can find out the source of any problem," he says. Dr Morano isn't interested in selling quick-fix solutions and he is conscious that beauty alone won't improve self-esteem. "We seek self-esteem in all global concepts of aesthetic medicine, which includes enhancing the health, and both the physical and psychological well-being of the patient." He designs highly personalised long-term programmes with the goal of slowing down the effects of ageing, enhancing a patient's beauty and preventing issues related to an unhealthy lifestyle.
He smiles when we ask him to tell us about the last treatment that made him feel particularly proud. "The one I performed five minutes ago," he says. By that, he means to tell us that every treatment he carries out is important to him. "Each case is so personal," he says. His genuine interest in his patients, his capacity to listen and his technical skill, combined with a team of equally dedicated doctors, is the reason Clinica Morano is thriving.